Manchester United have suffered an injury blow as Henrikh Mkhitaryan's participation for the upcoming derby clash against Manchester City remains doubtful after the Armenian FA confirmed he could be out of action for seven to 10 days. The 27-year-old moved to Old Trafford from Borussia Dortmund and is yet to start a match for the Premier League giants.
The Armenian international came off the bench against Hull City and was impressive as Jose Mourinho saw his side maintain a 100% win record in the Premier League with a 1-0 win over the Tigers. Marcus Rashford scored a late goal, which was the difference between the two sides.
Mkhitaryan picked up an injury during Armenia's 3-0 defeat to the Czech Republic on 31 August. He clashed with the opposition defender Marek Suchy and walked off the pitch in the 38th minute.
Armenia take on Denmark in the 2018 World Cup qualifiers on 4 September. Mkhitaryan has been ruled out of the clash as the latest results suggest that he has an "injury in the lower third of the left thigh muscle."
"As reported, senior national team captain Henrikh Mkhitaryan received an injury against Czech Republic and as a result was unable to continue the match," a statement read on Armenian FA's official website.
"Mkhitaryan has had a medical examination in a clinic in Mlada Boleslav. Unfortunately, the results are not encouraging.
"Mkhitaryan was found to have an injury in the lower third of the left thigh muscle. Such injuries usually require a week to 10 days to heal, which means that Mkhitaryan will miss the Denmark-Armenia match on September 4."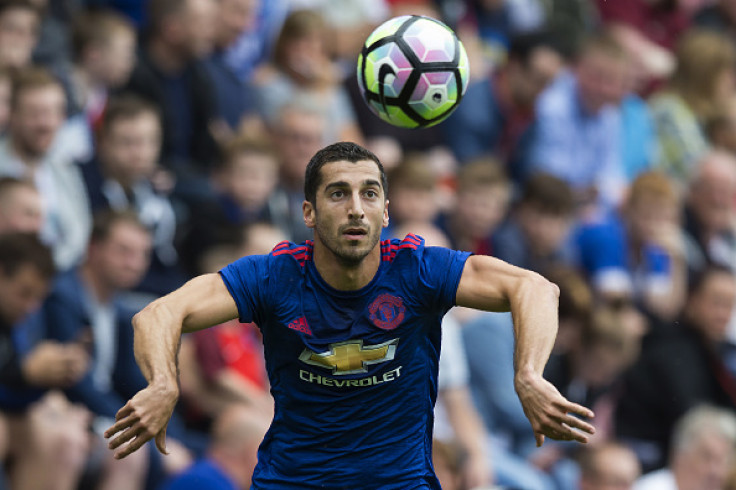 Pep Guardiola has seen his side win all the three league matches and like United, they share the same number of points with goal difference separating the two Manchester clubs. City will take on United in the upcoming league clash after the international break at Old Trafford on 10 September and Sky Sports claims Mkhitaryan is doubtful for the Red Devils' next fixture.