Mandela Memorial 'Fake' Sign Interpreter: Thamsanqa Jantjie Says he 'Started Hearing Voices'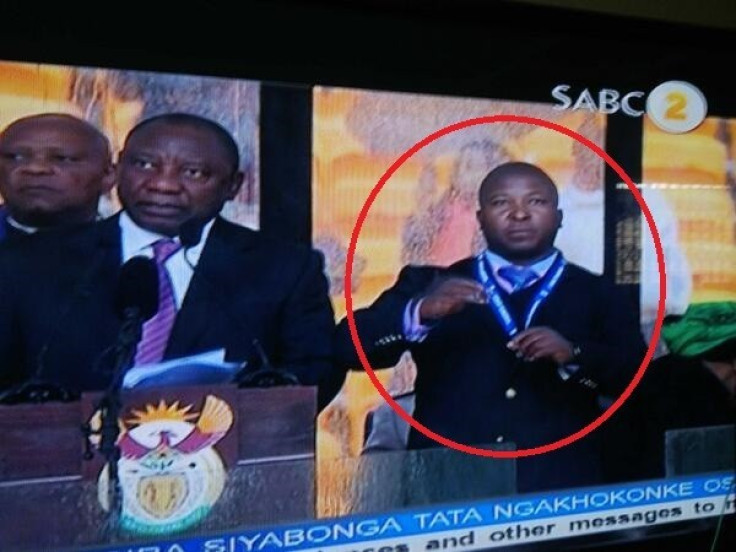 The sign language interpreter accused of using fake hand signals at Nelson Mandela's memorial has blamed his performance on schizophrenia.
According to a BBC report, Thamsanqa Jantjie told South African media he "started hearing voices" and began hallucinating.
During the memorial, he was employed to stand on the stage next to key speakers such as US President Barack Obama and Mr Mandela's grandchildren, translating their eulogies. His performance was watched on television by millions of people worldwide.
Deaf viewers complained that they could not follow what was being said on stage because the man interpreting proceedings for them via sign language was "signing rubbish".
He was accused of literally making it all up as he went along by randomly waving his arms in the air behind a procession of dignitaries.
According to the man itself, a cacophony of voices in his head made him lose concentration.
"There was nothing I could do. I was alone in a very dangerous situation," Jantjie told Johannesburg's Star newspaper.
"I tried to control myself and not show the world what was going on. I am very sorry. It's the situation I found myself in."
But in a subsequent radio interview, he said he was happy with his performance.
"I've interpreted in many big events," he told Talk Radio 702. "I think I've been a champion of sign language."
Jantjie said he worked for a company called SA Interpreters, where he is a senior interpreter.
Mr Jantjie's performance at the memorial provoked anger among South Africa's deaf community.
The government is investigating the matter and on Wednesday states that it "wishes to assure South Africans that we are clear in defending the rights and dignity of people with disabilities".
© Copyright IBTimes 2023. All rights reserved.