Animal rights activists are going bananas after a Manhattan judge ruled that two lab chimpanzees have a right to their day in court to argue that they are "persons" who have a right to freedom.
It's a groundbreaking, though not decisive, ruling that grants animals a right to be "heard" in human court. But just days after the ruling, the judge backtracked by striking out a key section of her order.
The case was brought by the Florida-based Nonhuman Rights Project on behalf of Leo and Hercules, being held at Stony Brook University in Long Island, New York, for medical experiments. The activists want to send the pair to the Save the Chimps sanctuary in Florida.
The group has argued in cases across the nation that caged primates should be considered "persons" who have been "unlawfully detained." It's an interesting strategy that seeks improved animal treatment by elevating a creature's legal position.
"Hercules and Leo are 'persons' entitled to the New York common law right to bodily liberty, protected by New York common law habeas corpus," argued court papers filed by the Nonhuman Rights Project.
The university officials "have the burden of proving their detention of Hercules and Leo is lawful. If they are unable to do so ... the chimpanzees must be immediately released," the document adds.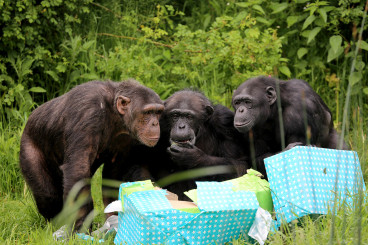 Manhattan Supreme Court Justice Barbara Jaffe did not rule that the chimps were persons, but did grant them a writ of habeas corpus, and called on the university president to prove the chimps have not been unlawfully imprisoned.
"Only a 'legal person' may have an order to show cause and writ of habeas corpus issued in his or her behalf," boasted the Nonhuman Rights Project. "The court has therefore implicitly determined that Hercules and Leo are persons."
"It feels great. We knew it was going to happen sometime," Stephen Wise, attorney for the animal rights activists told the Guardian. "We all gave each other a high five over the phone."
But days after the ruling Jaffe amended it by striking out "writ of habeas corpus."
Habeas corpus petitions are often brought against the state demanding prosecutors prove why a suspected criminal is in custody.
Last year, the New York Supreme Court Appellate Division ruled that a 26-year-old former entertainment chimp named Tommy kept locked in a cage alone by his owners was not a legal person who had a right to be free. That case was also brought by the Nonhuman Rights Project.