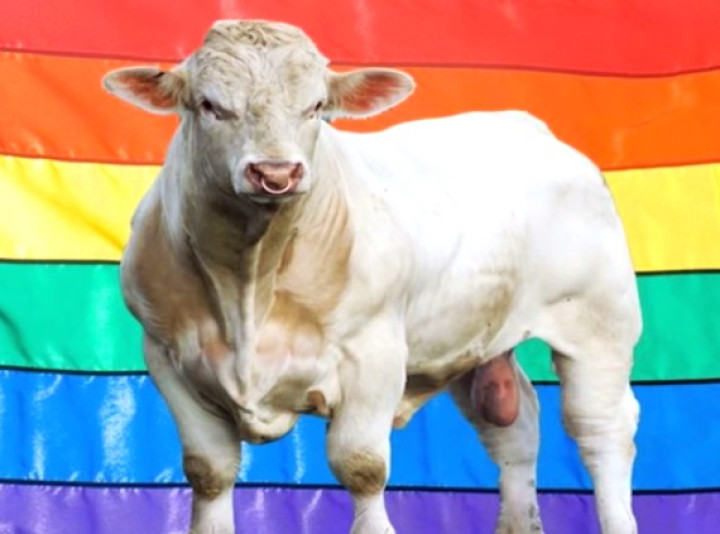 A homosexual bull which refused to impregnate any cows has been saved from the slaughterhouse by the co-creator of the Simpsons.
Sam Simon has stepped in to rescue Benjy from the plate after a campaign sprung up to spare the animal's life.
Benjy became the unlikely focus of attention after it emerged he was destined for the chop because of his glaring failure to get frisky with any cows on a farm in Mayo, Ireland.
Support mobilised on the web around the hashtag #savebenjy and 250 supporters have now raised the money for Benjy to begin a new life, away from Ireland.
Simon - a committed vegan - took up the cause after he was told about it by animal rights group Peta (People for the Ethical Treatment of Animals).
"Peta told me about Benjy, and I felt compelled to help. All animals have a dire destiny in the meat trade, but to kill this bull because he's gay would've been a double tragedy," he said.
"It thrills me to help Peta and Aran [Animal Rights Action Network] make Benjy's fate a sanctuary rather than a sandwich."
Simon - who has terminal cancer - was one of the brains behind cartoon family The Simpsons. He is spending what time he has left by rescuing animals threatened with suffering and has pledged to give his £62.5m fortune away to charity after his death.
Benjy is expected to be in his new home at a sanctuary in time for Christmas.
A Peta spokesman said: "Peta hopes that those moved by Benjy's plight will extend their empathy to the billions of other animals on farms who, like Benjy, are denied their most basic freedoms."
The case of Benjy has sparked debate about sexuality in animals. A farm vet originally diagnosed the cause of Benjy's procreation problem, said reports - adding that tests revealed he was not infertile and actually appeared interested in another bull.