Early this year I made a few "Cancer on Board" badges to bring attention to passengers who have to travel on public transport even when they feel absolutely awful. I am a cancer patient myself, so I have first hand experience of trying to cope with public transport when really all I really wanted to be doing was curling up under a duvet.
TfL saw my badges and asked me to meet them.
I thought that it might be a very short meeting, with instructions to stop it immediately, but they were actually very positive. They had an existing scheme for disabled passengers, but it was aimed at station staff rather than customers and they were exploring ways to make the experience of public transport better for everyone.
So they are introducing a "Please offer me a seat" badge and card trial from Monday 12 September. The badge and card are for customers who find it difficult to stand when using public transport, and are particularly targeted at those with hidden disabilities, conditions and illnesses.
This is an extremely positive initiative from TfL. I hope it will make life much easier for people with hidden disability or Illness, and encourage ordinary passengers to look out for their fellow passengers. It doesn't take much to brighten someone's day, and giving up your seat for someone who needs it more than you can make an incredible difference for them.
There are lots of people who have conditions which aren't visible and cause terrible tiredness, or constant pain. We all know that the Tube can be a pretty unforgiving place, especially during rush hour. Hopefully, this scheme can help make life a little easier for people who otherwise might be unable to travel.
There are lots of people who have conditions which aren't visible and cause terrible tiredness, or constant pain.
My badges are specific to cancer, and deliberately confrontational. I know these badges can work from my own experience. Fellow cancer patients have also been wearing the badges, and have had some positive experiences, with fellow passengers giving up seats, helping with luggage or offering assistance in other ways.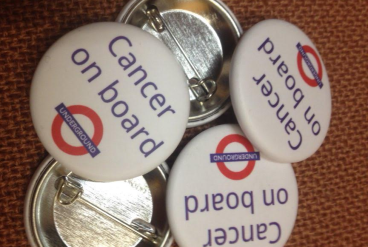 Cancer treatment can make you feel nauseous, so I have sometimes found that I am actually more comfortable at the end of the carriage next to the window, rather than actually sitting down. I have also found that it can be an incredible morale booster for someone to notice the badge and simply ask how you are feeling.
The blue badges from TfL are much more inclusive. I have already been asked about "MS on board" and "Asthma on board" badges, but something non-specific like this is better for a wide range of conditions. It also suits some people who don't want the whole world to know what medical condition they have. The option of a card to discreetly show people is also a good one for those who don't want to put themselves on show.
Really, it all relies on people being good neighbours on the Tube and the bus. "Baby on Board" has been a huge success, with hundreds of thousands of users, and most people are very accepting of it. Of course, there is always one selfish person who wont budge, but the vast majority of passengers only need a little nudge in the right direction. I know how easy it is to hide behind a newspaper or zone out with a pair of headphones on, but it only takes a little badge to break the ice and get people to treat each other like human beings, rather than faceless Tube zombies.
I am really looking forward to being part of this trial and seeing the results, and I know that a lot of cancer patients who are currently using my badges are also eager to sign up and take part. If the trial is successful the badge and card will be made available more widely next year. If the buzz I have seen on social media since it was announced yesterday is anything to go by, TfL will have no difficulty at all in recruiting 1,000 volunteers.