Anti-GM campaigners in cities and towns across the UK are to march against Monsanto as part of a global day of protest at the genetically modified food giant.
Protests will be taking place in 36 countries across the globe. In Britain, marches are scheduled in London, Bristol, Glasgow, Manchester, Douglas, Torquay and Nottingham.
Monsanto is a leading producer of genetically engineered seed and the herbicide glyphosate, which is used to kill weeds.
Activists maintain that GM foods can lead to serious health issues including cancer, infertility and birth defects.
The event was organised by Tami Canal who said: "I feel Monsanto threatens their generation's health, fertility and longevity. I couldn't sit by idly, waiting for someone else to do something."
Organisers have also accused the company of having undue influence over the Food and Drug Administration in the US.
"For too long, Monsanto has been the benefactor of corporate subsidies and political favouritism. Organic and small farmers suffer losses while Monsanto continues to forge its monopoly over the world's food supply, including exclusive patenting rights over seeds and genetic makeup," the organisers said.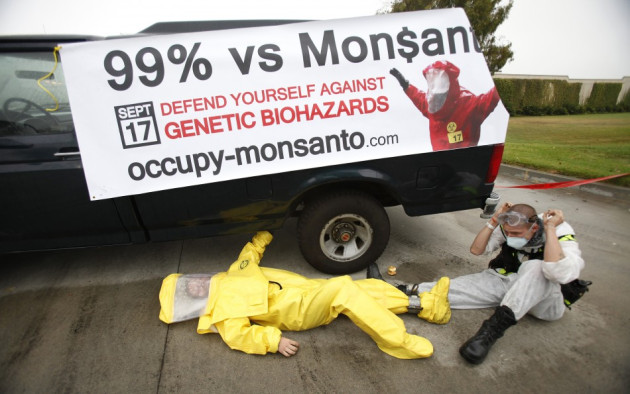 Roberta Gogos, who organised the march in Athens, said: "Monsanto is working very hard to overturn EU regulation on obligatory labelling and no doubt they will have their way in the end.
"Greece is in a precarious position right now and Greece's farmers falling prey to the petrochemical giant is a very real possibility."
Campaigners are demanding that GM foods are labelled and want more research into the effects on health.
In London, 3,000 supporters are expected to meet at Parliament Square.
Posting on the official March Against Monsanto Facebook page, organisers said: "Tomorrow we will see one of the biggest unified global protests in history.
"We demand the end of the attack on our food and water supply by the corporation Monsanto. Let this be a message to all corporations that have deemed it their right to hijack our food supplies and resources in the name of their selfish profit. Let this be a message to the government officials who have sold their allegiance to these corporations.
"We, the people of the world, do not approve and we will not stop until our rights to clean water, pure food, freedom of choice and health are returned to us."
Monsanto has said it has no statement about the forthcoming protests. However, on the company FAQs, it says describing GM crops as unsafe or untested is "simply untrue".
The company says it works alongside farmers to grow the additional food needed to support the growing population.