Hundreds of women across the UK have taken part in the "march of the Mummies" while dressed in bandages as part of a campaign to improve rights for working mothers.
Campaign group Pregnant Then Screwed organised the rallies complete will full costumes to take place in London, Cardiff, Belfast, Manchester, Glasgow and Newcastle to coincide with Halloween.
The main march in London began in Trafalgar Square before continuing on to Parliament Square where MPs were handed handed their demands outlining "recognition, respect and change" for working mothers.
Among some of the changes the group are calling for include for childcare to be subsidised from when a child is six months old, the self-employed to be given statutory shared parental leave, and fathers to have improved paternity leave.
Joeli Brearley, founder of Pregnant Then Screwed, who took part in the London march, said: "I will be marching, arm in arm, with women who have suffered at the hands of their employers for simply giving birth to the next generation.
"We will be handing the Government our demands in the hope that we will bring to an end maternity discrimination, through creating better policies that enable shared responsibility thus removing the onus on women."
MP Caroline Lucas and TV presenter Helen Skelton are also among those scheduled to give talks at the rally in London.
According to the group, around 54,000 women a year are pushed out of their job for getting pregnant, with 77% of working mums experiencing negative or discriminatory treatment in the workplace.
Prior to the march, a spokesperson for Pregnant Then Screwed said: "Women even face discrimination for simply having a womb with 40% of employers saying they would avoid hiring a woman of childbearing age.
"The government knows these statistics, they commissioned the research report, yet they have taken no decisive action to better protect and support mothers. Since the report was released, 84,500 women have been pushed out of their jobs for daring to procreate."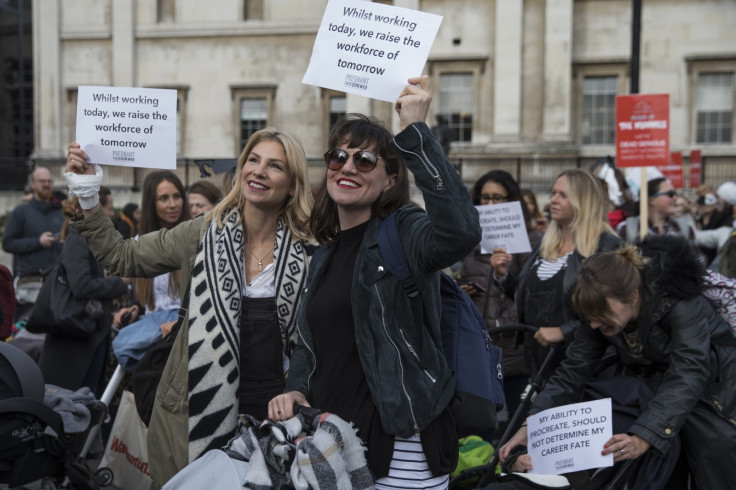 Pregnant Then Screwed's five demands:
Increase the time limit to raise a tribunal claim from 3 months to (at least) six months.
Require companies to report on how many flexible working requests are made and how many are granted.
Give both parents access to 6 weeks parental leave paid at 90% of salary.
Give the self-employed access to statutory shared parental pay.
Subsidise childcare from 6 months old, rather than three years.