Hundreds of people gathered in London on Saturday to protest against the treatment of LGBT people in Russia.
It is believed to be the largest gay rights protest in the UK capital in recent years.
"Stephen Fry walked along the whole length of the protest like an ambassador, and everyone was cheering him," said an eyewitness.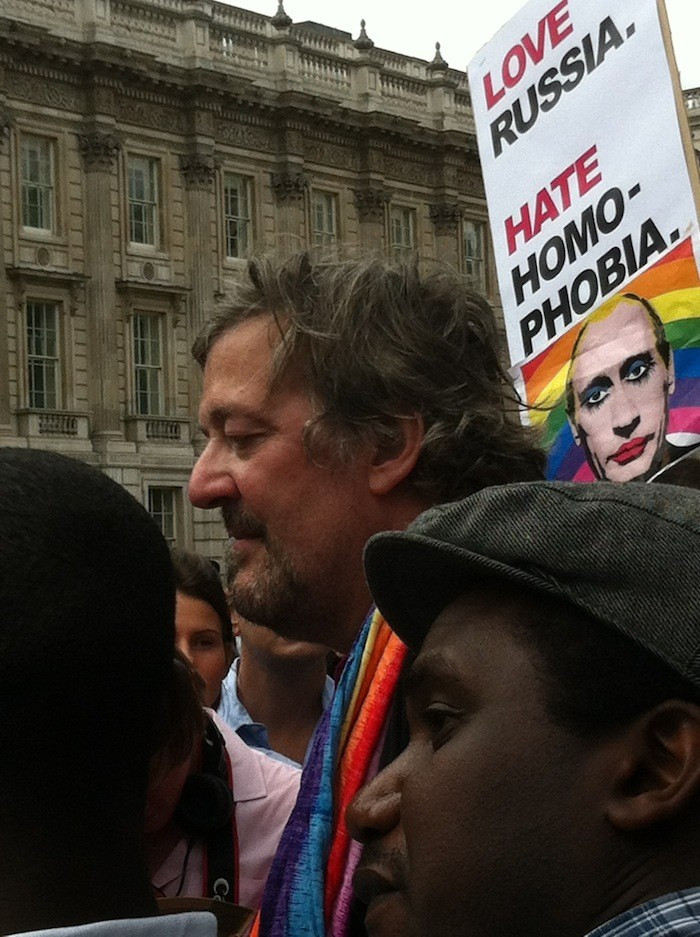 The writer and broadcaster stopped by a group who were supporting LGBT rights in Uganda to talk to TV cameras.
Fry has called on athletes competing at the 2014 Winter Olympics in Russia to cross their arms across their chests at the Games to protest at the anti-gay laws.
The broadcaster accepted that it was unlikely that the Games would be boycotted or moved from Russia, but hoped athlete protests would show solidarity with campaigners and "take the sweetness of victory out of Putin's mouth", he told the BBC.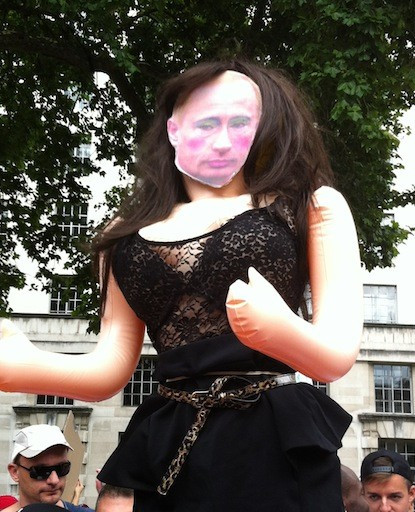 A Russian law, passed in June, prescribes heavy fines for anyone providing information about homosexuality to people under 18 - but Moscow denies it is discriminatory.
Demonstrators are calling for the government to put pressure on Russia to repeal the laws.
Critics of the anti-propaganda law have said it effectively disallows all gay rights rallies and could be used to prosecute anyone voicing support for homosexuals.
The law, as well as a ban on the adoption of children by same-sex couples, are part of a more conservative course taken by President Vladimir Putin on social issues since his return to the Kremlin in May 2012.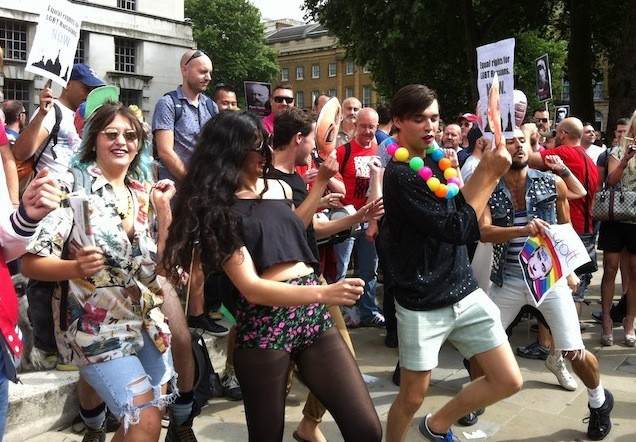 "Putin is the 'Czar of Homophobia'," veteran gay rights campaigner Peter Tatchell wrote on his website ahead of the protests.
"His regime has outlawed the public expression of LGBT (Lesbian, gay, bisexual and transsexual) identity and affection - and prohibited the advocacy of LGBT human rights - in circumstances where a person under 18 might see it."
Protesters wielded banners bearing slogans such as "We are not Putin up with homophobic Olympics" and blow-up dolls superimposed with President Putin's face.
There was one scuffle with police as some protesters ran out into the streets to stop cars. Police moved in quickly to disperse them. Overall, there was a very low-key police presence in what was largely a peaceful protest.
LGBT demonstrators called for a change in Russia's policy that has attracted criticism from world leaders including U.S. President Barack Obama.
Meanwhile, gay bars in London and across the UK have called for a show of solidarity against Russia's anti-gay laws by boycotting Russian vodka.
READ MORE
Stephen Fry clashes with Daily Mail editor Dacre over call for Olympic boycott