Kate Middleton Hoax Station Tells Marco Pierre White he's a 'Rude P***k'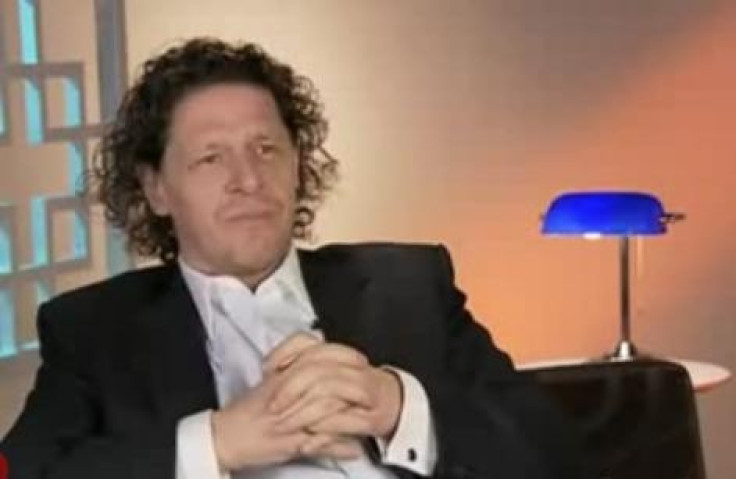 The radio station behind the Kate Middleton hoax call has caused new controversy after one of its presenters called Marco Pierre White a "rude p***k".
Dale 'Louie' Lewis, from Austereo's Tripple M Hot Breakfast show, was interviewing the celebrity chef at its Melbourne studios with his co-presenters Ali Carle, Warren Tredrea and Jon 'Blakey' Blake.
Pierre White's interview was pre-recorded yesterday and the presenters were banned from playing the recording on their show today.
Lewis quizzed the MasterChef: The Professionals host about his three failed marriages, saying: "Hey mate, married three times, was the first wives dismissed, for want of a better word, cause they can't cook, or didn't like your cooking? Is that an issue with them?"
In response, the chef said he was just pleased that he had found three women who were willing to marry him.
However, Lewis then said: "Yeah, cos if you're the rude prick you come across on TV, I wouldn't be there long either. That's just me surmising what I've seen on TV."
Carle, co-presenting, told the chef that she "wouldn't stand for that". Pierre White, speaking to Lewis, said: "All you're doing is giving me insight into you as a person."
Lewis laughed this remark off, saying the chef was analysing him, and that he was a psychoanalyst as well as a chef.
Wholly imappropriate
Pierre White then said: "There's no need for rudeness. I think you should say good morning to me, and good bye, because one, I take offense to being called that. I haven't shown you disrespect, I haven't been rude to you. I don't like being called that word. I'm very sorry."
The presenter tried to apologise but the chef left the studio and did not continue the interview: "Your apology is accepted. Rudeness is not having fun when it is at the expense of another person.
"You're a very rude man. And I hope your mother's not listening to this show today because she would not be proud of her son. Have a nice day, bye bye."
Following the encounter, Pierre White said he had been put "off balance" by the encounter, saying: "I thought why should people get away with this? Why should they be allowed to bully people? It's why I said what I said.
"What's very sad is this is a radio show where children could be listening, and to use that sort of language in front of children is wholly inappropriate.
"This is my third time in Australia in eight months and this is the first time anyone has shown me rudeness or disrespect. I just excused myself and left."
He said Austereo "lacked sensitivity and regard for others".
This encounter comes in the wake of the hoax call made by 2Day FM presenters Mel Greig and Michael Christian, who phoned the hospital where Kate Middleton was being treated for acute morning sickness to ask about her condition in December.
Jacintha Saldanha, the nurse who transferred the call, was later found to have taken her own life in the hospital's staff accommodation.
© Copyright IBTimes 2023. All rights reserved.