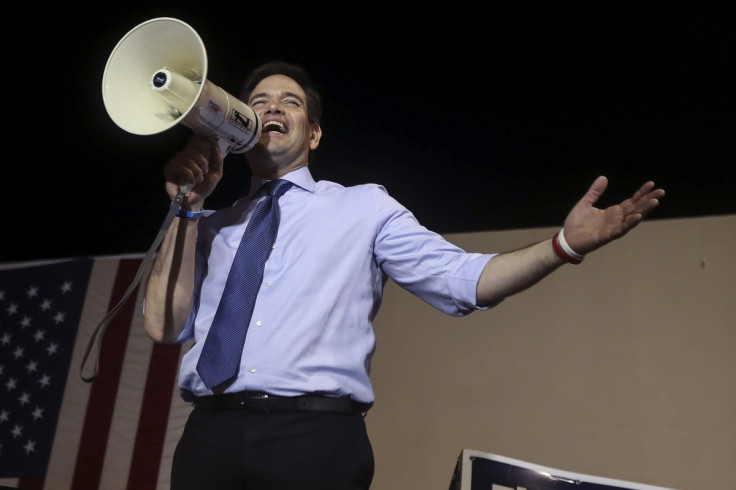 Florida senator Marco Rubio sent a hail of tweets lambasting the Washington Post, for speculating about his post-presidential campaign plans. Rubio appeared to take issue with the news organisation's sources, saying they are "often just people who want to sound like they are in the know."
Rubio was referring to a Washington Post article entitled "5 people who are never going to be Donald Trump's Vice President." The former Republican presidential candidate was apparently unhappy with the source in the following passage which stated: "Rubio, according to conversations I've had with people close to him, is sort of betwixt and between when it comes to his next move."
Questioning the reliability of the source, Rubio kicked off a series of tweets, writing: "Funny to read about unnamed 'people close' to me who claim to know my thinking on future plans. They just make it up."
Rubio mocked the statement in another post, writing: "A 'longtime friend' says Rubio is 'betwixt and between when it comes to whether to chest or legs tomorrow at gym.'"
On Monday (16 May), GOP presidential candidate, Donald Trump, also sent a tweet clarifying that he is not considering the Florida senator as his running mate. "The @washingtonpost report on potential VP candidates is wrong. Marco Rubio and most others mentioned are NOT under consideration," tweeted Trump.
Last week Rubio had ruled out the prospect of being Trump's running mate, saying the Republican frontrunner would be better off teaming up with those who see eye-to-eye with him. "He's the presumptive nominee at this point but he'd be best served by having someone, not just, by the way, a vice presidential nominee, but active surrogates who agree with him on his issues," Rubio told CNN.
"My differences with Donald, both my reservations about his campaign and my policy differences with him are well-documented," he added.
Rubio also took a swipe at a line in the Post's story, which claimed he was "a bit at sea in terms of his next step politically." In one of his eleven tweets, Rubio hit back: "I have only said like 10000 times I will be a private citizen in January."