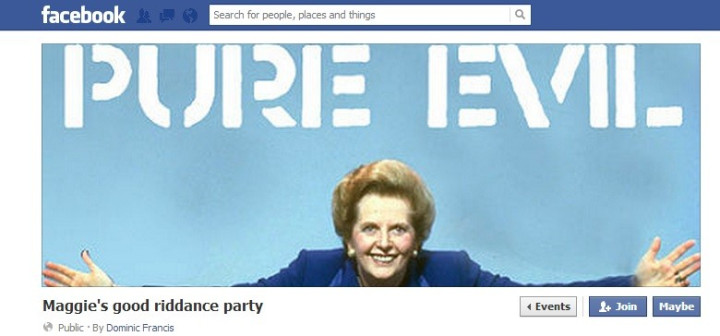 Hundreds of people are planning to "turn their backs" on the casket carrying Margaret Thatcher as it travels past St Paul's Cathedral on 18 April - and the protest could stretch to thousands.
More than 200 people have confirmed their attendance on the Facebook group Maggie's Good Riddance Party, in which they discuss their plans to protest on the day of Thatcher's funeral. More than 3,000 have been invited to join.
The creator of the group, Dominic Francis, describes the plan to have "a right jolly knees up" outside St Paul's Cathedral in protest at the service for the hugely divisive former Prime Minister being part-funded by the taxpayer.
Metropolitan police have urged anyone who wished to plan a protest on the day of the funeral to contact them in advance.
The group insist they have no intention of staging a violent protest but instead shine a light on how much they "reject the legacy" of the former Conservative leader by turning their back as the coffin parades by in full view of the cameras.
One of the group members, Lois Davis, said: "There is also the plan for Thatcher's children to stand anywhere in the funeral procession and turn their backs as the coffin goes by.
"That way the world press will not be able to avoid recording how many of us reject the legacy of the 'no such thing as society' woman and the police won't be able to find a hot spot to kettle or disperse".
Group creator Francis, an Oxford Brookes University student from Tunbridge Wells, added his intentions were to "prevent a warped idolising view of the UK being spread by the worldwide media" by staging the protest.
He added: "Margaret Thatcher's choice to enter the public arena negates her of any of the protection from vilification that a private individual enjoys, to stifle her beration is ironic given the ideals of competitive individualism she so frequently put forth. But should this openness to public criticism be extended to her mourners?
"Yes, if they chose to make her funeral a public hagiographic affair, exempt of all criticism, funded from the public purse."
Cmdr Christine Jones of the Met Police said: "There has been much speculation about what levels of protest may take place. I would ask anyone who wishes to demonstrate then, or in the coming days, to come and talk to us.
"The right to protest is one that must be upheld, however, we will work to do that whilst balancing the rights of those who wish to pay their respects and those who wish to travel about London as usual."
Fears of protets on the day of her funeral were raised following the street parties in Leeds, Bristol, Brixton, Liverpool and Glasgow celebrating her death, some of which resulted in arrests and injuries.