The high cost of Baroness Thatcher's funeral has been called into question as a new poll shows that more than 50 percent of people in the UK don't want taxpayers' money to fund it.
Although not a state funeral, the former prime minister will have a ceremonial service with full military honours.
Wednesday's funeral is the largest in Britain since that of the Queen Mother in 2002.
Thatcher's estate will make a contribution, but Downing Street has refused to give details about how much the event will cost - this will only be revealed after the services.
A Sunday Mirror poll revealed that six out of 10 people fiercely object to the rumoured £10 million cost to the nation of Wednesday's ceremonial send-off.
It was also revealed in the Daily Mirror that Lady Thatcher's estate is estimated at "well in excess of £10m and possibly as high as £30m".
There was also division about Thatcher's legacy - 41 percent of people did not think she was Britain's greatest peacetime prime minister. Rather, she was the "most divisive" prime minister ever.
John Prescott, Labour's former deputy prime minister was forthright in his views: "Thatcher split this country, North and South, the haves and have nots, 'one of us' or 'the enemy within'. This country paid enough thanks to that woman. So why the hell should we continue to pay now she's dead?," he wrote in the Sunday Mirror.
"Privatise her funeral. It would be a fitting tribute," he added.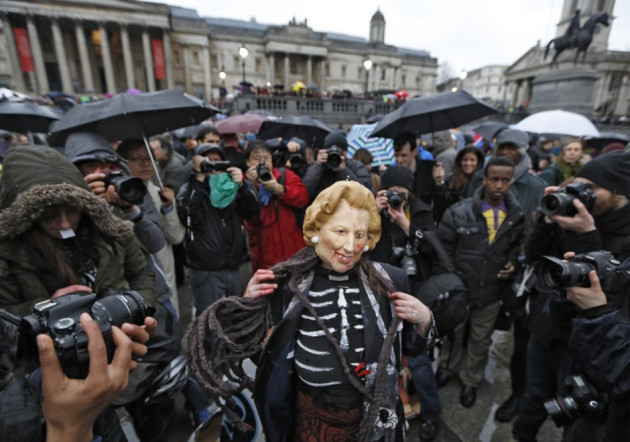 On Wednesday, Lady Thatcher's coffin will be carried through the streets of London on a gun carriage, as the funeral cortege travels to St Paul's.
The same honour was given to Diana, Princess of Wales, the Queen Mother and Winston Churchill.
In front of the coffin, the grandchildren of the former prime minister, Michael and Amanda Thatcher, will carry cushions bearing the insignia of the Order of the Garter and the Order of Merit and lay them on the Dome Altar.
Prime Minister David Cameron and Amanda Thatcher will deliver readings from the King James Bible.
It was confirmed that the hymns will be He Who Would Valiant Be, Love Divine, All Loves Excelling, Psalm 84 set to the music of Johannes Brahms, and the patriotic verse I Vow To Thee My Country.
Plans are also being set up for a Margaret Thatcher library in London.
Backers are aiming to raise £15m in private funds to establish the combined library, museum, educational and training centre.
Visitors will be able to view iconic artefacts from her time in office as the longest-serving British Prime Minister of the 20th century, with clothes including her blue Aquascutum suits and matching handbags.
The Margaret Thatcher protest song Ding Dong! The Witch Is Dead has lost its Number One spot in the UK charts. Meanwhile, Lady Thatcher's supporters were trying to push a song called I Love Margaret Thatcher up the charts.