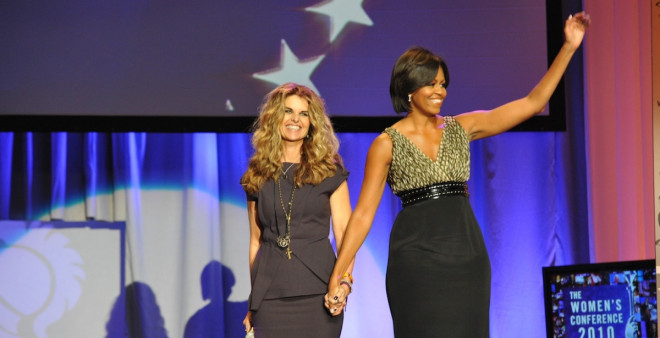 Maria Shriver, award winning journalist, author of six books and charity leader, urged an audience of senior executives at a variable compensation conference to be part of the 'care economy' and help address the burgeoning wage and cost of living gap in the US.
Speaking at the CompCloud14 conference in San Francisco, California, Shriver, who is also the former First Lady of California between 2003 and 2010 as the wife of California Governor Arnold Schwarzenegger, said through her own reporting and research, she found that employees are also likely to also stay and grow with a company if firms' bosses put the time and money into caring for their staff.
"When I was the First Lady of California, we had a huge disparity between wages in the state. We had more billionaires than anywhere in the world but we also had the highest rate of poverty. We also had five of the poorest cities in the US in our backyard," said Shriver.
"What I try and do is for companies to pause and start investing more in caring for their employees, which would in turn help out the rest of economy.
"One in three women working in the US is in poverty and what I hope to foster is a more conscious and caring culture in the country. Caring for employees doesn't just affect the person, it [has ripple effects] through society as most people are going to work to survive."
Shriver is the mother of four, a Peabody and Emmy-winning journalist and producer, a six-time New York Times best-selling author, and an NBC News Special Anchor reporting on the shifting roles, emerging power and evolving needs of women in modern life.
Part of her mantra is to "use your economic power for good."
"You can hold businesses accountable with your money. Be informed, influential, and inspired consumer by supporting companies that create more conscious, caring, compassionate and inspiring products and workplace for their employees," she added in a statement given out to delegates.
"They say it takes a village. They are right. Businesses are successful because of their many moving parts. Bosses rely on their employees need support from their bosses.
"Who you work for is as important as what you do. Companies that provide benefits and support; like sick days, flexible schedules and healthcare for their workers will retain their employees longer and receive a higher output of productivity."
Don't forget to check out IBTimes UK for more coverage on CompCloud14 from San Francisco, California.