Marilyn Manson seriously injured after huge prop gun crushes him on stage
Fans express worry Antichrist Superstar rocker is dead after incident.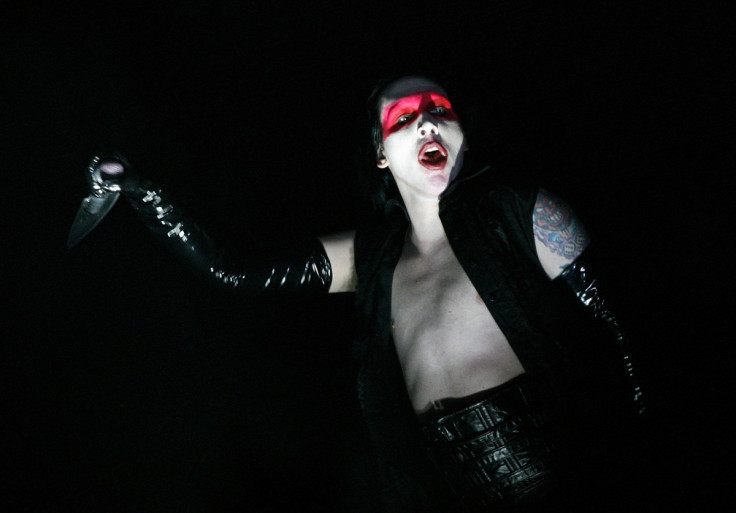 1990s rock star Marilyn Manson has been seriously injured and rushed to hospital after two large prop guns collapsed on him an hour into a New York concert.
The 48-year-old Beautiful People singer was hurt when the props, held together with metal scaffolding, toppled over and crushed him during his show at the Hammerstein Ballroom on Saturday (30 September).
Video footage taken by fans in the audience has emerged on Twitter following the incident. Further images from the scene suggest Manson – real name Brian Hugh Warner – attempted to climb up the guns before they fell on him.
The accident took place when Manson was performing his cover of Eurythmics' Sweet Dreams (Are Made of this) approximately one hour into the show, TMZ reports.
He was taken to hospital. There has been no update on his condition at the time of press.
Yousif Al Zaid, 23, who was at the show in New York, said: "It happened in the middle of his song Sweet Dreams. He performed it and all of a sudden he climbed on to the two guns ... At end of the song he bent over holding one of the poles [on the prop] and tipped over.
''Then it all went silent and you could hear a pin drop. Everyone rushed to him and there were rumours he was dead. Then they brought out a stretcher and he was taken away,'' The Guardian reports.
He added: "On my Twitter feed today people are saying he has only broken his leg or fractured his ankle, but there's no official news yet. It's crazy actually – when he fell they closed the curtain on the stage and dimmed the lights. They then escorted everyone out."
Another showgoer wrote on Twitter: ''Prop just fell on someone on stage at the Marilyn Manson show. Lights down, sheet brought out. Don't know who it fell on. F**k''.
Pictures and clips of Manson being crushed by the stage props and on his way to hospital also emerged on the social media sharing platform.
Musicians on stage with the rocker rushed towards him as soon as they saw the incident, pulling the metal work off him. It was then announced that the show was over ''due to injury".
A representative told Rolling Stone magazine: "Manson suffered an injury towards the end of his incredible NYC show. He is being treated at a local hospital."
Twitter users claimed that it took several minutes for Manson to be pulled out of the wreckage.
Manson is famed for his controversial stage personality and image since emerging onto the music scene in 1989, with his stage name formed by combining and juxtaposing the names of pop cultural icons Marilyn Monroe and cult leader Charles Manson.
Manson is scheduled to tour the US and Europe before coming to the UK at the end of December.
© Copyright IBTimes 2023. All rights reserved.