Mario Balotelli has been offered a potential exit route from Manchester City by Serie A club Napoli, whose president Aurelio De Laurentiis is dreaming of partnering the Italian with striker Edinson Cavani in attack.
Balotelli was last weekend photographed fighting with manager Robert Mancini leading to the questions over the 22 year old's immediate future at the Etihad Stadium.
Mancini has since played down the latest in a series of controversial episodes involving Balotelli, claiming the forward, who has scored four goals in 20 games for City this season, will be given other chances.
AC Milan president said last week he didn't want to sign Balotelli, formerly of Inter Milan, in the current window, but Napoli have claimed they would like to partner him with their premier marksman Cavani.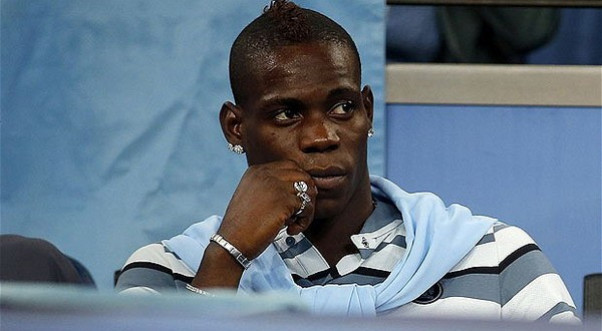 "My dream? [Is to have] Balotelli alongside Cavani in Napoli attack," he said.
"City are considering letting Balotelli go so they can move for Cavani? I would prefer to see Balotelli playing with Cavani here at Napoli.
"Teams tend to hold onto their best players in January. You take a big risk making big investments now.
"There is still time for us to bring in new faces but we must be cautious. On January 31 you will see what moves Napoli have made."
Balotelli has previously fallen-out with fellow players Yaya Toure, Micah Richards and departed defender Jerome Boateng during his time at City, but having featured in the FA Cup against Watford at the weekend, appears set to stay at the club.
Another player who knows all about getting second chances at City is Carlos Tevez, and the Argentine striker says that even after all the trials he's endured at the Premier League champions, he is a source of comfort for Balotelli.
"I try to help Mario," Tevez admitted. "I talk to him personally, on and off the pitch. I've been in that moment like him.
"I'm always keen to help him and keep him going through these kind of moments, so he doesn't make the same mistakes that I did in the past."
"There are these kind of things that have happened at all the clubs I've been, but here at City the spotlight is always on us, as it is always on Roberto and Mario.
"So here it always comes out - but this kind of thing happens everywhere."