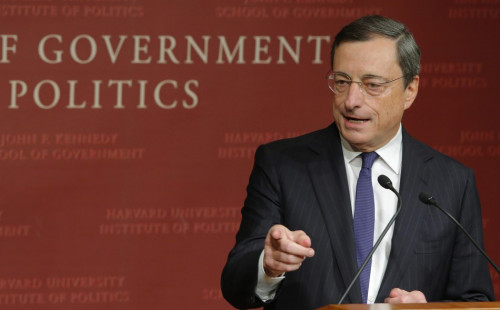 American critics of the euro "underestimated the depth of Europeans' commitment" to the currency, said European Central Bank President Mario Draghi.
In a lecture given at the Harvard Kennedy School, Draghi made a robust defence of the European Monetary Union (EMU) and hit back at critics that predicted the currency would fail.
"In the dark days of the crisis, many commentators on this side of the Atlantic looked at the euro area and were convinced that it would fail. They were wrong."
Draghi defended the record of the eurozone on the grounds of economic performance.
"The euro area has created 600,000 more jobs than the US since 1999," said Draghi.
Furthermore, Draghi said that eurozone governments had done a better job of balancing their budgets, compared to the US government.
"It is welcomed that governments in the euro area have made significant progress in consolidating their budgets, and hence removing some sovereign risk from the financial system," said Draghi.
"The primary fiscal deficit for the euro area has fallen from 3.5% of GDP in 2009 to around 0.5% in 2012. In the United States, by comparison, it was around 6% of GDP in 2012."
Misunderstanding Europe
Draghi also said that those who had expected the euro to fail misinterpreted the intentions behind monetary union.
"They mistook the euro for fixed exchange rate regime, when in fact it is an irreversible single currency," as Draghi explained why the euro had to continue.
"It is irreversible because it is born out of the commitment of European nations to closer integration - a commitment which, as the Nobel committee recognised last year, has roots in our desire for peace, security and transcending national difference."
More Integration
European policymakers were also making concrete steps towards making the monetary union more robust added Draghi.
"At the national level, consolidation and structural reforms are helping most countries reach a more sustainable external position.
"At the European level, we are approaching a balance of competencies which, taken in combination, should provide more effective stabilisation."
However, Draghi said that no one could be sure about where European integration would ultimately lead.