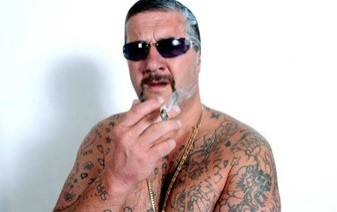 Australian criminal turned author Mark Brandon "Chopper" Read has died aged 58 after suffering from liver cancer.
The infamous writer died at Royal Melbourne Hospital following a "long and courageous battle with liver cancer", his manager Andrew Parisi confirmed.
Parisi added he was "deeply saddened" by his death.
Read spent 23 years of his life in prison for a variety of crimes including assault and armed robbery. His first book, Chopper: From the Inside, was an anthology of letters he sent while incarcerated in Melbourne's Pentridge Prison and published in 1991.
He went on to publish more than a dozen semi-autobiographical books about his experience of violence and criminal activities.
After he was realised from prison for the final time in 1998, Read became a celebrity figure, giving public talks about his life as well as appearing in adverts speaking against drunk driving and violence against women.
He became infamous worldwide when Eric Bana portrayed him in a film about his life in 2000.
Read earned the nickname Chopper after asking a fellow Pentridge Prison inmate to slice off his ears during one of his stints in jail.
He was never convicted of killing anyone, but he claimed in his books to have murdered 19 Australian criminals. However, the actual figure has often been debated.
"Look, honestly, I haven't killed that many people," Read told The New York Times earlier this year, "probably about four or seven, depending on how you look at it."
Read also played down other legends about him, including claims of torturing people using pliers and blowtorches.
"People seemed to like the stories of blood and gore so much that I just kept serving them up to them," he said.
Read made his last public appearance in September in front of a sold-out audience at Melbourne's Athenaeum Theatre.
Parisi said: "Despite his failing health, he delighted the audience with his skills as a raconteur and storyteller.
"This is how he would wish to be remembered, as someone who spun a great yarn and made many people laugh."
Read is survived by his wife, Margaret, and his sons, Roy and Charlie.
"At the time of his death, we ask that people reflect on how Mark was able to overcome his past and, after more than 23 years in prison, find a way to re-enter "normal" society," his manager added.
"It is as a husband, father and friend that Mark will be missed most deeply."
Read: Mark 'Chopper' Read Admits Killing Paedophile and Three Others in Final Interview