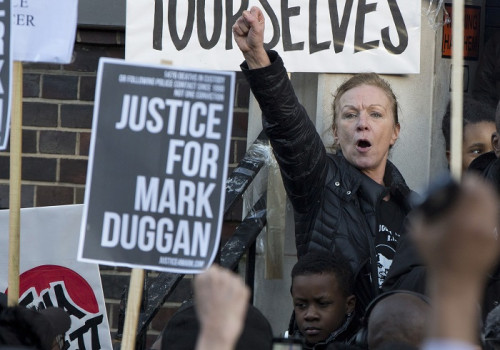 A vigil for Mark Duggan, who a jury ruled was lawfully killed when he was shot dead by armed police officers, has passed without the "disorder" that the Metropolitan Police had feared.
Several hundred people gathered for the vigil outside Tottenham police station, holding signs and banners. The crowd observed a minute's silence, before chanting "No Justice, No Peace!" and "Who are the murderers? The police are the murderers!"
A jury found police killed Duggan lawfully, when armed officers shot him while unarmed in Tottenham in August 2011. The family have called the jury's verdict "perverse", prompting fears of demonstrations and unrest. Duggan's death sparked England's worst riots in a generation, in 2011.
The families and supporters of Sean Rigg, a black musician who died in Brixton police station, and Roger Sylvester, a mentally ill man who died after being detained by police in Tottenham, joined the march and criticised the police for deaths in custody and their attitude towards members of the black community. Some placards read "Justice for Mark Duggan - 1476 deaths in custody or following police contact since 1990 not one conviction."
Duggan's mother Pamela and aunt Carole told the crowds the family "still want justice".
Carole Duggan told the crowds: "The more we people come together and support each other, maybe we can make a better life for our children, for all of those children who have to live in these communities that are over-policed, where they are not free.
"They don't have the same freedom as other children in other parts of the country and that's not fair. What we have got to remember - Mark isn't here and we are doing this for his children.
"So let's show the country that we are not this gangster family that the media has been systematically portraying us as. Mark was not a gangster; the media sustained a campaign against him. We're just an ordinary family."
Earlier the Metropolitan Police said they had intelligence that a small minority of people and protest groups were planning to "provoke disorder" during the vigil. There was a significant police presence during the vigil and police also monitored social media for reports of groups attempting to disturb the peace, but these fears failed to materialise.
The protest ended with doves being released to symbolise the family's ongoing pursuit of peace.