European shares swiftly pared gains Thursday after €13bn in bond sales from France and Spain failed to settle investor concerns that the Eurozone will avoid another sovereign debt crisis.
Market speculation of a possible downgrade of France's Triple-A credit rating was also pressuring shares, as well as bond prices, in an active European trading session for both debt and equity markets.
The extra yield, or spread, demanded by investors to hold French government bonds instead of German Bunds was around 10 basis points higher, at 148 basis points, following the sale of around €8bn in bonds by France's Tresor and the unconfirmed market speculation. A basis point is 0.01 percent. Italy's 10-year government bond spreads against Bunds were also on the rise, climbing 12 basis points to 398 basis points by mid-day London time. Bund futures hit a record high of 140.78, up 42 ticks, as the speculation took hold while the euro sank to a session-low $1.3070 against the US dollar.
The broadest measure of European stock performance, the FTSE Eurofirst 300, turned negative by mid-day London time, with the index was pegged at 1,046.55 at 1200 GMT, indicating an narrow decline after earlier advances of as much as 9 points.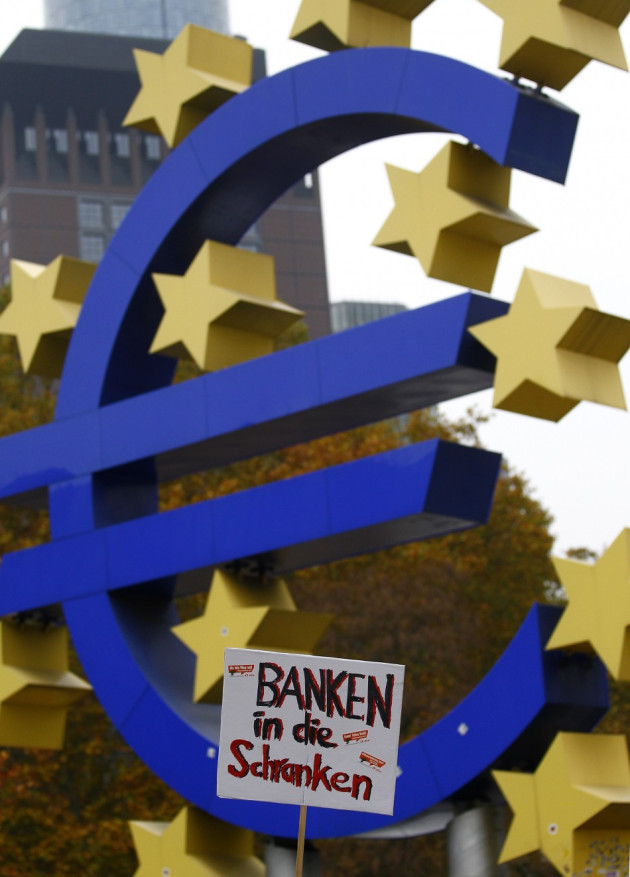 Spain executed its second trip to the capital markets this week with a broadly successful sale of two and 10 year debt that, while more expensive than prior auctions, still managed to attract decent demand and kept borrowing costs at a relatively manageable level.
Spain's treasury sold €1.1bn in 2- year bond at an average yield of 3.463 percent - a 3 basis point decrease from its last auction in November of last year. A basis point is 0.01 percent. Investors put €3.3 worth of bids into the auction for every €1 being offered for sale. This so-called "bid-to-cover" ratio was nearly two-thirds higher than at the previous sale.
A further €1.4bn in 10-year bonds were also sold Thursday with an average yield of 5.743 percent. That's an increase of 34 basis points from the last sale but firmly below the 6 percent threshold that had troubled markets last week. The bid-to-cover ratio was also strong at 2.4, compared to 2.2 at the last sale.
Market rates on Spain's 10-year debt, however, rose after the auction to around 5.88 percent, according to Reuters. The single European currency briefly hit a session high of $1.3166 against the US dollar before easing back to $1.31325 as the Spanish bond yields began to rise
Today's sale - only the second attempt to tap longer-term debt markets this year by Spain - was a stern test the market's faith in the country's ability to continue to trim its budget deficit and grow the economy while executing around €27bn in public spending cuts. The government sold around €3bn in 12 and 18-month treasury bills earlier this week.
France's debt auction was far smoother, with the Tresor raising €7.97bn in sales of two, three and five year bonds at an average yield of 1.42 percent. Investors placed bids for more than three times the amount of offer.
However, with the first round of the country's presidential elections set for this weekend, the solid results were marred by speculation of a potential debt downgrade. Francois Hollande, the leader of France's Socialist Party, leads incumbent Nicolas Sarzoky in most polls going into the initial round of voting. His pledge to balance France's decades-long deficit by 2017 - a year longer than Sarzkoy's plan - has been met with considerable scepticism from international investors given his commitment to a 75 percent top rate of income tax and a raising of the nation's minimum wage.
Equity market investors were also occupied with a full slate of corporate earnings Thursday, including a disappointing €1.4bn first quarter operating loss for Nokia, the world's biggest smartphone maker, and a cautious set of outlook statements from France's Publicis, the world's third-largest ad firm, and catering giant Sodexo, which made no changes to its revenue and profit forecasts after delivering first half results that were in-line with analysts' expectations.