Chelsea new boy Marko Marin was persuaded to join the club by former striker Claudio Pizzaro, according to the German winger.
Pizzaro scored just twice during a 12-month spell with The Blues in the 2007/08 season, but has enjoyed more success back in Germany with Werder Bremen.
And Marin says that upon deciding whether to join Chelsea, he took advice from Pizzaro, who despite a harrowing time in west London, had good things to say about the three-time Premier League champions.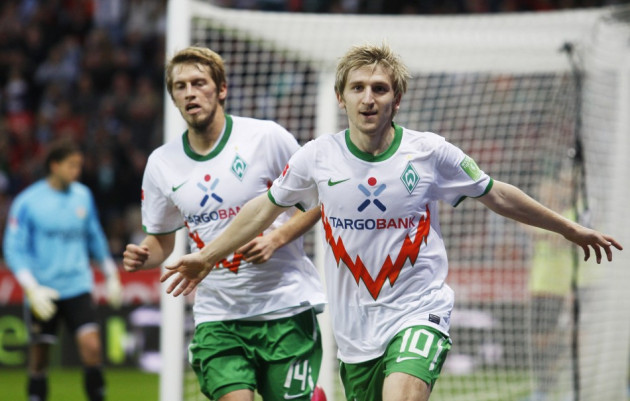 "He [Pizarro] only had good things to say," Marin told Chelsea TV. 'I asked him how it is here and he still has a house in Cobham.
"He didn't play a lot but he said that he had a great time here and he thinks I will enjoy it.
"I think I am an offensive player, more a winger, so I hope I can give a lot of assists to strikers so they score a lot of goals and they help the team.
"If you play for such a team as Chelsea you want to win trophies, like last year with the Champions League and the FA Cup.
"The Premier League I think is the best league in the world and to win this, that is my aim."
Marin is one of two new recruits at Chelsea this summer, with Eden Hazard joining from Lille ahead of the new season.
Roberto Di Matteo, who led the club to Champions League and FA Cup glory last season, has been handed a permanent deal as manager, following his exploits as interim boss.
The Italian is likely to be under pressure to bridge the gap to Manchester pair City and United, while also retaining interest in winning silverware next season.
Despite the pressure, Di Matteo is not concerned over losing his job at Stamford Bridge next term.
"The end of the season was remarkable and the team was outstanding in achieving those targets, but that is the past - now we look to the future and we have to start again," he said.
"We have to try and get running from the start and be competitive in all the competitions we are involved in.
"We have the quality and the players to compete. With Chelsea you are always looking to compete and be in the frame to win something at the end of the season, that will be the key."