Marks and Spencer chief executive Marc Bolland must feel somewhat vindicated after the high-street giant recorded its first rise in annual profit for four years. When asked if this was the case, he dodged the question, saying he was "very relaxed, this is part of the job".
The job has been a tough one for Bolland. He has been faced with continuous speculation surrounding his future over the past half-decade as his turnaround plan has spluttered. But now it is bearing fruit, can he finally win over some of his critics?
"The modest 6% rise in underlying profits hardly makes up for five years of underperformance and disappointment," said independent retail analyst Nick Bubb.
Since taking over from Sir Stuart Rose in 2009, the Dutchman has invested over £2bn (€2.8bn, $3bn) in overhauls of the Marks and Spencer warehouse ­network, IT, website and clothing range as part of a recovery plan. Much of the criticism aimed at him has been linked to clothing sales, in particular womenswear, which have deteriorated under his tenure.
Bolland said of his turnaround programme: "Over the last three years we've done the heavy lifting, we've made a step forward and in the right direction. We could have made a huge profit without the investment, it would make me look better, but I don't want to look better, I want to do the right thing."
Rosie Huntington-Whiteley offers a helping hand
Whichever way you look at it, like-for-like sales of general merchandise, which includes clothing, were down 3.1% for the year. "Not good enough" was his verdict.
But there is at least an indication that things are improving on this front, with sales for the fourth quarter up 0.7%. Bolland cited fewer promotions and the firm's appeal to a "broad church" of consumer for the uplift, flagging the success of Rosie Huntington-Whiteley's Autograph collection.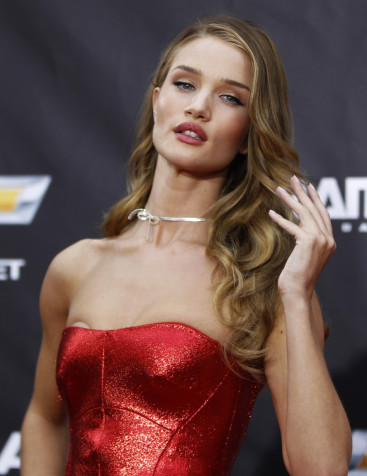 Phil Dorrell from consultancy Retail Remedy said: "One strong season does not a turnaround make. But at least it is an indication that M&S's core business has stopped misfiring at last.
"Marc Bolland still has a mountain to climb. Many M&S stores are still a mess of baffling sub-brands. The relaunched website struggles to inspire and the brand's much-hyped new distribution centre is still suffering teething problems."
The results were enough to move broker Shore Capital to upgrade the firm's shares from hold to buy off the back of the good results. Shore Capital's Clive Black said: "M&S has had a tortuous couple of years to our minds, some may say a tortuous couple of decades. However, something changed at the start of 2015."
What has not changed is the popularity of the retailer's food sales. To some extent, they have been the company's, and Bolland's, saving grace.
Up 0.6% on the year to £5.2bn, they stand out in a sector that is taking a battering. While the so-called "big four" supermarkets – Tesco, Sainsbury's, Asda and Morrisons – have all struggled recently, Marks and Spencer's food division has seen five years of continuous growth.
Dorrell said: "Food remains the hero of the piece, but these results at least hint that M&S is returning to what it should be: a clothing retailer with a successful sideline in food, rather than a successful food retailer with a moribund clothing business holding it back."
Simply Food expansion
Off the back of further success in its food division, the firm plans to ramp up expansion of its Simply Food stores. However, Bolland was quick to warn this is not growth for growth's sake. He said: "This is not a race for space, we are under-represented in many parts of the country."
He also revealed there had been keen interest from potential partners in France to open more Simply Food stores. It currently has six in Paris.
However, if there is to be a meaningful and prolonged turnaround, Marks and Spencer must now show consistent signs of growth at its clothing division. On this front, appealing to younger shoppers will be key.
Bryan Roberts of Kantar Retail said: "The elephant in the room continues to be M&S's ability, or lack thereof, to recruit and retain younger shoppers. Will the business be content serving an ageing customer base? Or is something more radical required to increase the retailer's relevance to the more youthful market segment?"
Bolland refused to be drawn on the demographics of the typical Marks and Spencer shopper and instead highlighted the firm's emphasis on style. To this end, he hired Mark and Neal Lindsey in November 2014, the brothers who helped to create rival Next. The secretive Hong Kong-based millionaires now control sourcing at Marks and Spencer's general merchandise division.
The move was hailed as a masterstroke by industry experts and may provide the "radicalism" required to turn the company around.