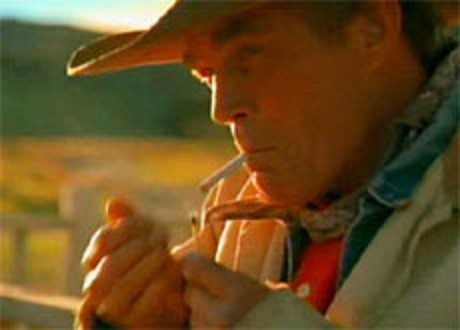 A US actor who played the part of the "Marlboro Man" in the late 70s and early 80s has died from a smoking related respiratory failure.
Eric Lawson, who portrayed Marlboro Man between 1978 and 1981, died at his home in San Luis Obispo, California as a result of respiratory failure due to chronic obstructive pulmonary disease (COPD).
The 72-year-old, who was a smoker from the age of 14, later appeared in an anti-smoking advert which parodied the iconic Marlboro Man and gave interviews in which he talked about the negative effects of smoking.
The actor also appeared on US TV shows such as Charlie's Angels and Baywatch, before retiring in 1997 after getting injured while filming a western.
His wife, Susan Lawson, told how cigarettes "had a hold" of Lawson for most of his life.
"He knew, yet he still couldn't stop," she said.
The Marlboro Man ad campaign had been used in the US from 1954 to 1999. Its original intension was to promote smoking as a "macho" habit: cigarettes had previously been marketed as a feminine commodity.
Lawson is not the only Marlboro Man to later die from smoking-related illnesses. In 1987, actor David Millar died from emphysema and David McLean died from lung cancer in 1995.