Everton midfielder Marouane Fellaini has told Manchester United players that David Moyes will be every bit as tough as his predecessor Sir Alex Ferguson.
The retired Manchester United manager was renowned for his infamous hairdryer treatment when crossed by one of his players, and having been in the receiving end of Moyes' own brand of fiery condemnation, Fellaini believes the incoming United boss will not give his new side an easy ride.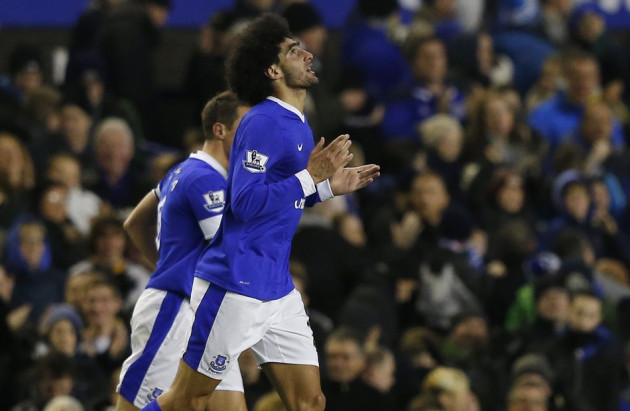 The Belgium international recalls the time he was sent off for head butting Stoke City's Ryan Shawcross as an occasion when he personally felt Moyes' wrath.
"He is a decent man, a great manager, but believe me he can be tough, if you want to win something, to create a good team you have to be hard sometimes with the players - football is like this," Fellaini said.
"I remember when I was banned after the Stoke game, he gave everyone the day off - everyone. The players, the entire staff, but I came to the training camp to do a training session with him.
"It was just me and him, and it is not easy to go into the camp to face him like that."
Fellaini, who has been linked with a move to United that would see him reunited with his former boss, was banned for three games after being charged with violent conduct for the incident in December last year.
But the 24-year-old was just as concerned with the reaction of his manager.
"I understood, because I knew I had made a mistake, but you know it's not easy when you know you have let him down. Just going in there knowing you have to look him in the eye was hard!"
"He put me through a tough session... it was a full-on session, running, shooting, passing, everything and very intense, and afterwards I was upset.
"I said afterwards, 'Arggh, this is bad', but I am happy when he looked after me, so I understand."
Moyes will officially take over at Old Trafford on July 1, but the Scot has seemingly already immersed himself in the proceedings at United.
The club yesterday announced that Rio Ferdinand had signed a new one year contract, with the centre half revealing he had conversations with the new United boss regarding the new season, while Moyes himself lavihed praise upon the 34-year-old defender.