"Mass Effect 3" fans have been left puzzled and annoyed with the popular video game's ending, which has sparked off much heated debate and speculation. BioWare has reportedly admitted they will consider fan concerns and come up with an answer in due course of time.
However, Electronic Arts (EA) has rejected any claims of changing the game's ending with the upcoming DLC. This comes as a massive blow to those fans looking to re-write the rather disappointing conclusion to what is a hugely popular trilogy of games.
A Mexican newspaper quotes a representative from EA who said all future expansions would focus on explaining details about the game's ending without actually changing it completely. The article was published on 2 April, in Reforma, according to the BioWare Social Network forum.
"Mass Effect 3" is the conclusion to Commnader Shephard (the protagonist) and his story but not the game, according to Daniel Gonzalez, Director of Marketing and Public Relations for EA Latin America. He also promised the new DLC would be ready in about two weeks.
"For anyone who was hoping for a different ending and not a clarification of the dreadful current one, it doesn't look good," writes Dorrieb, the user who posted the article in the forum.
In another twist to the tale, "Mass Effect 3" sources on Twitter dismissed claims made by the Mexican newspaper. However, they gave no clarification over what the DLC might actually include.
"If you didn't hear it from an official EA/BioWare/Mass Effect source, I would count it as rumours and speculation," the account tweeted in response to a fan query about the DLC.
Even if the widespread internet postings and social media revolts failed to drive home the point, a recent survey released by Reddit has put the fans' distaste for the ending in numerical form. When queried how players would rate their "Mass Effect" experience as a whole, 58.8 percent of participants said they "hated" the ending of the third instalment. Only 1.3 percent voted that they "loved" it. Overall, 6.4 percent of fans said that they "loved" the final game of the series as a whole.
The controversial ending has also impacted EA's stock value, with fans posting on HoldTheLine.com about the fall since the game hit the stands in early March. By 8 March, two days after the release, EA's stock price catapulted from 16.44 to 17.70 and continued to fluctuate up and down over the next couple of days.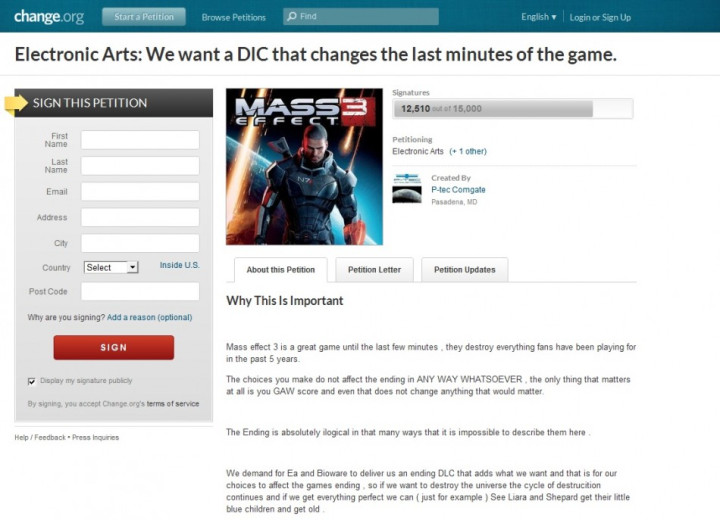 Meanwhile, change.org has organised a petition against EA on their Web site. All disappointed fans and game enthusiasts who are desperate for a better ending can file their petition demanding EA to incorporate the changes for the ending in the upcoming DLC. So far, there have been 12,510 signatures filed out of 15,000 and you could be one of them before the window closes down.
MUST READ: 'Mass Effect 3' Gay Sex Controversy: EA Defends Itself Against Anti-Gay Campaign
MUST READ: 'Mass Effect 3' Patch: BioWare Offers Fix for Crashes, Shepard Face Import Bug [COMPLETE FIX-LIST]
MUST READ: 'Mass Effect 3' Ending Controversy: How to Get the Best Possible Ending and the Missing Pieces? [SPOILERS]