Mass Effect 3 has witnessed a spate of unending controversies, thanks to its dull and predictive endings fuelling the furore of franchise fans in venting their ire at the game developers.
Disheartened with the broken promise of providing unique ending based on different choices a player makes, fans have resorted to novel ways to express their anger, as some chose to raise $80,000 to support sick children, while others decided to send 402 cupcakes to Bioware's offices in Edmonton, Alberta.
Meanwhile, the internet is abuzz with finding ways of experimenting with new story endings, as obsessed fans are throwing their weight behind it with their own downloadable versions of interactive endings posted on file-sharing sites such as Rapidshare.
Bioware has promised to bring out a solution, even as EA has messed up with an important part of the story being delinked from the main game, as part of the paid DLC apparently called "From Ashes". EA has not only left the highly-anticipated game in a cliff-hanger state, but also broken a million hearts in the process.
Now, on the Day 1 DLC, as promised, sells as an exclusive content, thanks to EA's greedy motive of making more money with the extra content, which is based on an extra character and an all important mission revolving around a Prothean. Somehow, the Prothean mission is the missing link that leaves a gaping void in the main story.
The official DLC (including the missing link) will not be available until April, and after that, most likely be available on Xbox Live, the PlayStation Network, and Origin (EA's download service), according to latest reports from Bioware.
Obsessed gamers and franchise fans would rue the fact that they missed the crux of the game itself with a broken ending. Several questions pop up in our minds, as to how could Bioware make such a costly compromise for some measly monetary benefit? Or Did EA really plan to cash in with the huge fan following for the game in trying to sell the extra content for some extra bucks?
With all the mind-blowing questions spoiling the mood of the gaming fraternity, it may take solace with downloadable versions for new interactive endings posted by a group of greedy scammers.
Let's take a peek at the various scams offering interactive endings you could play around with: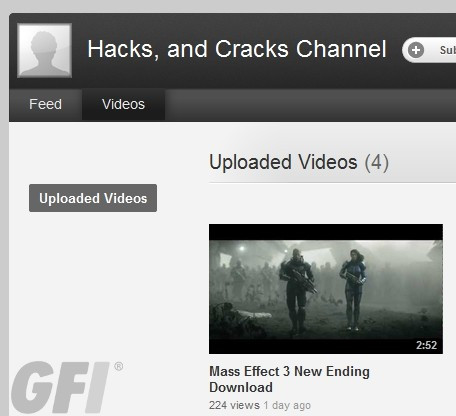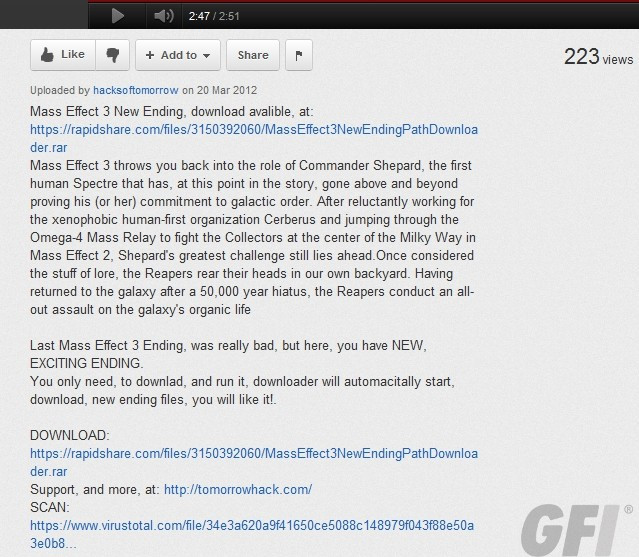 "Last Mass Effect 3 Ending, was really bad, but here, you have NEW, EXCITING ENDING," reads the downloading page. "You only need, to downlad [sic], and run it, downloader will automatcally [sic] start, download, new ending files, you will like it!"
Trying the download from any of the mirrors will present the end-user with a survey popup: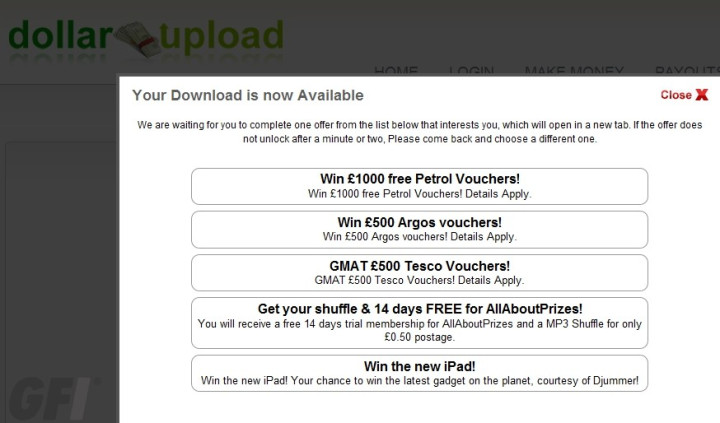 By the way, fans of Mass Effect desperate to get their hands on a better ending should be wary of anything claiming to be the real deal in the run-up to the Bioware DLC release in April.
Watch this cool video depicting the Mass Effect 3 New Ending: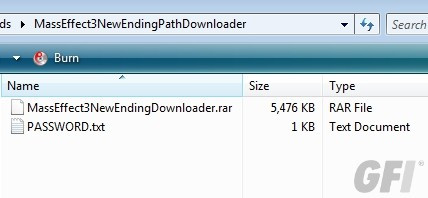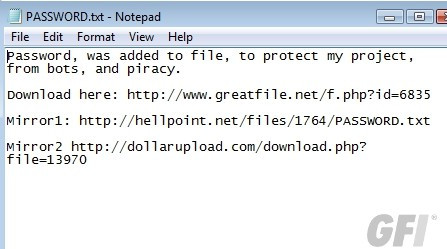 The new ending files can be downloaded at the following rapidshare link:
https://rapidshare.com/files/3150392060/MassEffect3NewEndingPathDownloader.rar
MUST READ: 'Mass Effect 3' Ending Controversy: How to Get the Best Possible Ending and the Missing Pieces? [SPOILERS]
MUST READ: 'Mass Effect 3' Ending: Disappointed Fans Stage Protest, Send 402 Cupcakes to Bioware [PHOTO]
MUST READ: Galaxy S3 Vs Galaxy Nexus: Leading Samsung Smartphones Battle for Supremacy