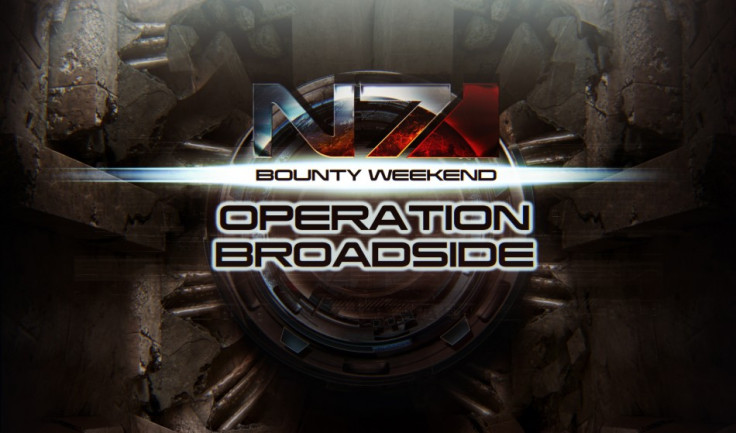 Recently, BioWare has brought more joy to its die-hard gamer community with a spate of DLC's across both single and multiplayer platforms. Not to mention the N7 bounty weekend events that have kept the Mass Effect fans loyal to the franchise.
The developer has announced the new multiplayer campaign 'Operation Broadside' for the weekend from 13 to 15 July. That should keep you busy for some time at least until the Earth multiplayer DLC hits your Xbox console on 17 July. No doubt, such a flurry of add-ons from BioWare will surely keep you hooked to the franchise for a long time to come.
BioWare recently announced that it will be returning to San Diego in California for Comic Con event from 11 July through 15 July, where the upcoming single-player DLC - Leviathan - for Mass Effect 3 is expected to be announced alongside the Earth Multiplayer DLC.
"We will once again have the BioWare Base at the Gaslamp Hilton for all fans to visit (you do not need a badge for entry) with stations to play Mass Effect 3 Multiplayer including the next upcoming multiplayer DLC. Members of the Mass Effect 3 development team & community team will be available to play MP, trade tips, talk BioWare, and sign autographs. Bring your games, novels, etc for signings," reads the statement on BioWare's official blog.
Here is the official description of the mission details, as posted on the BioWare blog:
"Operation BROADSIDE puts our reinforcements to work by coordinating large-scale attacks against the Reapers on multiple fronts. The objectives vary from planet to planet and theater to theater, but the common goal is to develop a sustainable fighting method with a minimal loss of life."
Squad Goal: Extract at least one squad member against Reapers on Gold difficulty
Allied Goal: Extract 400,000 squads against Reapers on any difficulty
Special Circumstance: None
Squad Goal Success: All squad members awarded a Commendation Pack
Allied Goal Success: All players awarded a Victory Pack and medi-gel cap increases from 5 units to 6.
Operation Broadside begins at 10 am PST on Friday, 13 July and ends at 10 am PST on Sunday, 15 July.