Mass grave containing 100 beheaded bodies found near Isis-held Mosul, says Iraqi Army
A forensics team from Baghdad will investigate the bodies after the discovery near Hammam al-Alil.
The Iraqi Army says it has discovered a mass grave containing the remains of around 100 beheaded bodies inside a school near Mosul. The macabre find was made by police on Monday (7 November) at the School of Agriculture on the outskirts of Hammam al-Alil, south of the Islamic State-held city.
The town, 19 miles south of Mosul, was recaptured from Isis on Monday, Iraq's Joint Military Command said. As the troops push north, this town is the last significant settlement on the Tigris river before Mosul itself.
A special forensics team from Baghdad has been sent to the site to establish who was killed in the massacre, police have said. Most of the corpses were reduced to skeletons, the Associated Press (AP) news agency reported.
Numerous mass graves in Iraq have been found in areas that were once controlled by Isis.
Brigadier-General Yahya Rasool, spokesman for the Joint Military Command (JMC), confirmed the discovery. In a statement, the JMC said: "Iraqi forces found ... 100 bodies of citizens with their heads cut off."
"Gangs of Isis militants continue to commit crimes against our people," the statement continued.
Rasool added that the decomposing state of the bodies made it difficult to tell if they were soldiers or civilians.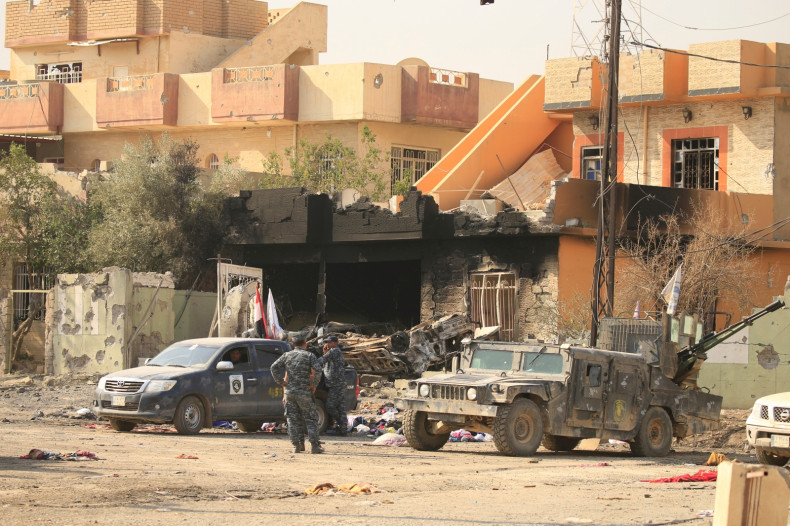 The UN Refugee Agency believes that jihadists had been informing the town's residents they had to hand over any boy aged nine and over. It is feared that they may be forced to fight for the terrorist organisation, or be used as human shields in the besieged city.
Al Jazeera reported that the UN believes Isis has killed dozens of civilians since Iraqi forces launched the large-scale offensive on Iraq's second city on 17 October.
Aid organisations, local officials, and residents reported that Isis has been executing people in Hammam al-Alil after suspecting them of planning rebellions to help the advancing troops.
Abdul Rahman al-Waggaa, a member of the Nineveh provincial council, told Reuters in an interview last month that most of the victims were former police and army members. He affirmed that many had been killed in the area surrounding the town.
He said the agricultural college was used as "a killing field" before the Iraqi government advance. "They would torture them inside and then take them out of the neighbourhood and either shoot them or slit their throats," he said.