A mass grave discovered by Iraqi security forces as they made their assault on the Isis stronghold of Mosul is believed to hold the bodies of hundreds of local policemen who were summarily executed by Isis.
The grave, which was discovered by its stench as Iraqi troops liberated the villages and hamlets held by the Islamic State on the outskirts of Mosul, could have been dug as recently as October.
Sources in Mosul told the international NGO Human Rights Watch that Isis massacred the several hundred former policemen just one month before the start of US-backed forces assault on Mosul.
They had been held as prisoners in Islamic State jails and were reportedly killed in custody.
The human rights organisation visited the site of the mass grave, some 30 km to the south east of Mosul, on the outskirts of the village of Hammam al-Alil and found four exposed corpses, as well as piles of rubbish and detritus covering other dead bodies.
In an initial report on the discovery of the mass grave by the Iraqi government, experts from Baghdad said they believed all the visible corpses – roughly 20 at that time (7 November) – had their hands and ankles bound and were wearing blindfolds.
The Iraqi group said the grave housed about 100 corpses but that number would appear to be higher based on Human Rights Watch's findings.
Witnesses from Hamman al-Alil, whose names are not being revealed to protect their identities, told Human Rights Watch that on October 19, at a time when ISIS was fully in control of the village and neighbouring towns and villages, fighters rounded up at least 2,000 people from the area and forced them to head north toward Mosul and Tel Afar.
Most did not have cars so had to walk.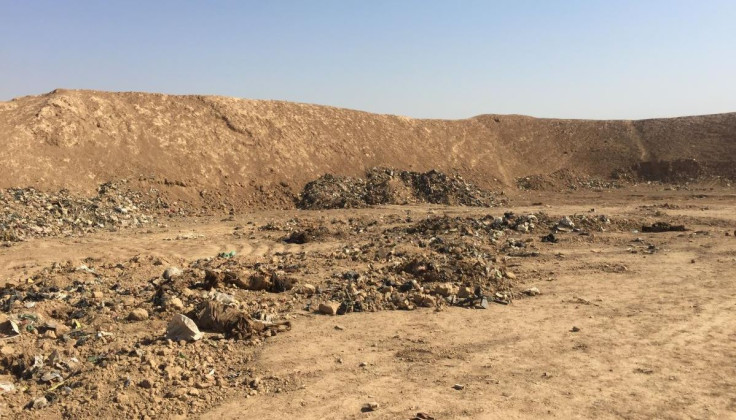 Isis separated the former policemen, loaded them into vehicles, and drove them away. Over a week later, on the night of October 28, at about 8pm, arond 100 -125 men, some recognised as former policemen, were seen being moved past a local agricultural collage.
Minutes later the witness heard automatic gunfire and cries of distress. The next night, he saw Isis fighters bring the same four trucks, carrying between 130 and 145 men. Minutes later he again heard automatic gunfire and screams.
Similar incidents followed with regular and prolonged regularity in which gunfire was heard along with further disappearances.
"This is another piece of evidence of the horrific mass murder by Isis of former law enforcement officers in and around Mosul," Joe Stork, deputy Middle East director at Human Rights Watch has said. "Isis should be held accountable for these crimes against humanity."