Al-Qaeda-linked gunmen from the Somali terror group al-Shabaab have stormed a hotel in the country's capital Mogadishu on Wednesday (25 January 2017) with reports that shooting can still be heard within the building.
Al-Shabaab entered the Dayah Hotel, which is popular with Somali politicians, after a suicide car-bomber rammed his vehicle the building's front gates.
"Shooting is taking place," Major Ali Hussein, a police officer at the scene, told Reuters as gunfire was heard from within the hotel. Hussein made the comments before a second blast, also believed to have been caused by a suicide bomber, tore through the building.
"Well-armed mujahideen [fighters] attacked the hotel, and now they are fighting inside the hotel," Andalus Radio, an al-Shabaab-linked broadcaster, reported.
Witnesses have said that several people were rushed away by the emergency services as the attack unfolded. However there have been no immediate reports of fatalities.
The force of the second bomb blast at the Dayah damaged some surrounding shops and sent those nearby running for cover. It was not immediately clear for how long fighting continued after the second explosion.
Mogadishu, which was once under complete Shabaab control and is now held by the Somali government, has been plagued by violence that often targets hotels. While the extremist group has not claimed responsibility for the attack, it bears a close similarity a June 2016 attack on the Nasa-Hablod hotel in which 14 people were killed. Two weeks earlier, gunmen killed 15 people, including two members of parliament, at Mogadishu's Ambassador Hotel.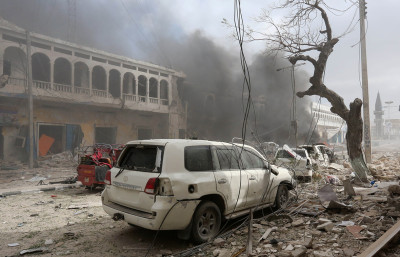 Al-Shabaab, which is fully named Harakat al-Shabaab al- Mujahideen, or Mujahideen Youth Movement, was formed in Somalia in 2006 as a spin-off of the now-defunct Union of Islamic Courts group that controlled Mogadishu and other areas of the country for a few months that year. It has since been leading an Islamist insurgency aiming to impose a strict interpretation of Sharia law in the country.
Initially the group exploited lawlessness created by more than two decades of almost interrupted conflict in Somalia, to seize control of Mogadishu and large swathes of land, mostly in the southern provinces bordering with Kenya. In 2012 the group pledged allegiance to al-Qaeda.