Days of torrential rain have led to massive floods in southern and eastern China. At least 56 people have been killed and another 22 reported missing after swollen rivers broke their banks and inundated towns. The floodwaters reached up to the roofs of houses in some areas.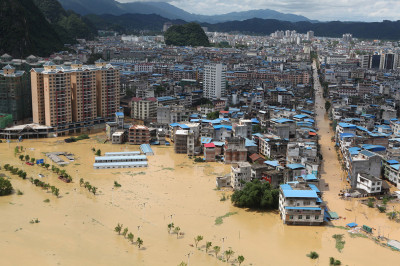 Over the past five days, as much as 48.6 centimetres (19 inches) of rain has been dumped on towns across a vast region of the country. The volume of rain has pushed water levels in more than 60 rivers in southern China above warning levels. The level of the Xiangjiang river, a tributary of the Yangtze River that flows through Changsha, capital of Hunan province, exceeded the previous records set in a massive flood in 1998.
The water levels in Changsha rose so quickly that police were forced to use a most unlikely rescue vessel: a bright green inflatable turtle. "There weren't any boats available, so we had to improvise," the police said in a statement on their Weibo page. The South China Morning Post reported that 13 people were transferred to safety on the turtle's back over two hours.
More than 11 million people in 11 southern provinces have been affected by floods, landslides and hailstorms, said China's Ministry of Civil Affairs. Collapsed levees in Hunan forced large-scale evacuations.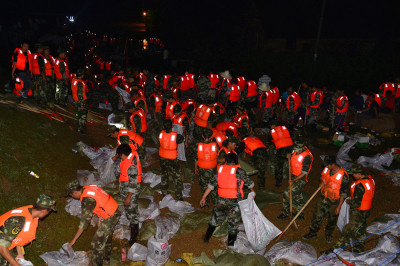 The Chinese government has disbursed 700 million yuan (£79m) in emergency aid to Zhejiang, Jiangxi, Hunan and Guizhou provinces to help those who have lost their homes or family members in the floods. The government has already sent 3,300 tents, 30,000 quilts and 24,000 camp beds to help displaced people in the four provinces, the Ministry of Civil Affairs added.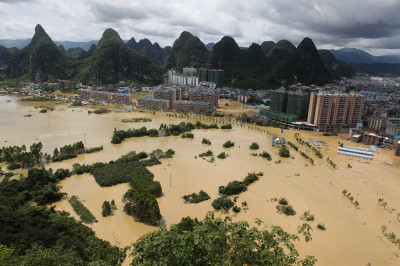 Dozens of flights at several airports serving major cities in the region including Chengdu, Changsha, Guangzhou, and Shenzhen were cancelled or delayed, stranding thousands of travellers. Trains also were halted, and roads were cut off to many towns and villages in the region. More rain is for the rest of this week in many of the areas that have already been badly hit.