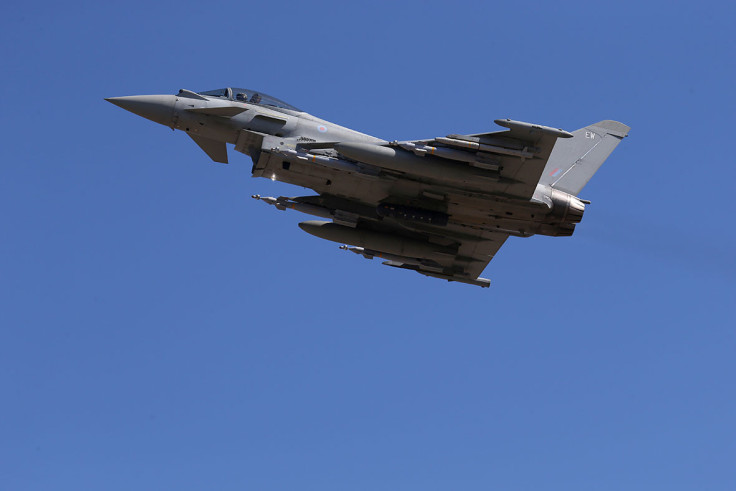 Anyone looking up in the skies over Lincolnshire recently may have seen a the impressive sight of a Typhoon jet performing manoeuvres, but while nothing looked untoward from the ground, on a GPS the pilot appeared to have 'drawn' a giant penis.
The cheeky Royal Air Force pilot gave plane spotters an eyeful as the aircraft's course over the British countryside traced the outline of a 56-kilometre phallic shape when viewed on a public flight radar website.
FlightRadar24, which allows anyone to track the real-time flight path of aircraft, logged the Typhoon jet taking off from RAF Coningsby near Boston, Lincolnshire, which then performed a series of turns and twists to result in the rudimentary artistry of a mid-air appendage.
Whether this was a very unfortunate coincidence or intentional is unknown. Those who saw it are leaning towards the latter.
It caught the attention of aircraft enthusiast Twitter account CivMilAir, which took no time in tweeting the image of the pilot's handiwork and joking: "Is he trying to draw something there?"
One user replied "maybe...but ATC on EWPA are better in this" and shared an image of a Polish pilot's effort of a similar plane prank.
Pilots taking advantage of GPS to draw messages in the sky are a regular occurence including a Dreamliner that impressively drew the outline of a plane that spanned across the United States in a live marketing stunt that took over 16 hours to complete.
British Airways was also subject to an embarrassing hidden penis gaffe as of late after it was discovered a stock image of a beach the company used on its website contained the drawn shape of male genitalia. The company's tongue-in-cheek reply read: "We were so distracted by the beautiful Croatian coastline and last minute package holiday deals from £129 per person that we didn't spot the naughty artwork hidden in the photograph." It has since been removed.
Runners who use GPS tracking apps have created a movement of sharing routes of their runs, which either draw out objects or spell out words, with both often coming in the form of the x-rated variety.