Max Verstappen Blasts Las Vegas Grand Prix: 'It's 99% show'
The inaugural race at the new Las Vegas circuit has been met with mixed reactions from drivers as well as fans of the sport.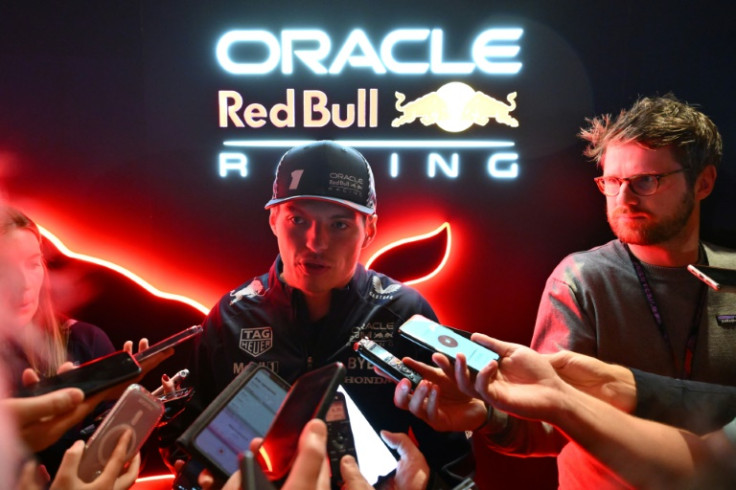 Reigning 2023 Formula 1 champion Max Verstappen did not mince words when he was asked about his opinion on this weekend's Las Vegas Grand Prix. He expressed his displeasure at the hype and spectacle surrounding the race, claiming that it is "99% show and 1% sporting event".
The Dutchman, who already secured his third consecutive F1 Drivers' World Championship title last month, also claims that he is "not looking forward" to all the extra glitzy side events that are part of the race weekend. The organizers have included a number of events for the inaugural Las Vegas race which are not normally part of the teams' itineraries during a typical race weekend.
For example, Wednesdays are usually spent doing some low-key press work and getting the garages and cars ready for the upcoming action on the track. In Las Vegas, everyone had to take time off race preparations to attend a lavish opening ceremony which featured performances from artists like Journey, Keith Urban and Kylie Minogue among many others.
The drivers all had to be there as the program included a segment where they were each introduced to the crowd amid an elaborate light show on a hydraulic stage.
Verstappen said that when it comes to the entertainment side of F1, he isn't too happy. "Some people like show a bit more, I don't like it at all," he said, forgetting that the race in itself is also a "show" for the fans at the end of the day.
He also pointed out that all the added elements are only there to make more money, which is ironic considering that he is the highest earner on the grid. All the prizemoney paid to the teams, which they in turn invest in their drivers, cars and all other employees need to come from somewhere after all. "They are still going to make money whether I like it or not. But I am also not going to fake it. I voice my opinion in positive and negative things. That's just how I am," said the Dutchman.
Extra strain on the drivers and teams
One particular side event that did not go down well with the drivers including seven-time world champion Lewis Hamilton, was a "firm request" from F1 CEO Stefano Domenicali for all of them to attend a party at the Wynn Hotel and Casino on Wednesday evening after the opening ceremony.
Wynn is described as a "founding partner" for the Las Vegas event, which perhaps explains why everyone was requested to be present event if the party was scheduled to start at 22:30 in the evening.
Several drivers decided not to turn up anyway, including Verstappen. Even the Aston Martin pair of Fernando Alonso and Lance Stroll skipped the party, but several key members of each team had to attend, meaning that the week's itinerary including media interviews and team briefings had to be adjusted for almost everyone.
Unusual schedule also gathers mixed reactions
The Las Vegas Grand Prix will start at 22:00 on Saturday night. The fact that it is being held on a Saturday is unique in itself, as every other race in the calendar, and in fact for the last 40 years have been held on a Sunday.
It is like racing in Japan, only everyone is in western United States. Then, there will be a drastic 12-hour time zone shift to the final race in Abu Dhabi next week.
Verstappen was not happy about that either, saying: "I don't really get that. It is very tiring also at the end of the season that we have to do this. It doesn't really make a lot of sense."
Verstappen was clearly indifferent about all the additional engagements, saying that he had "zero interest" in the party and is not even too excited about the race itself. He said that the newly-constructed street track was "not very interesting".
Other leading drivers were more enthusiastic
Aston Martin's Fernando Alonso is not bothered by the unusual schedule, preferring keep his head down and focus on the task at hand. He also has less animosity towards the entertainment aspect, pointing out that F1 owners Liberty Media have invested so much in the sport and in the Las Vegas event itself. He said: "With the investment that has been made and the place we are racing, it deserves a little bit [of] different treatment and extra show."
Hamilton is also a lot more upbeat than Verstappen even though he and the rest of the Mercedes team have been forbidden to gamble in Sin City. He said: "It's amazing to be here. It is exciting - such an incredible place, so many lights, a great energy, a great buzz.
"This is one of the most iconic cities there is. It is a big show, for sure. It is never going to be like Silverstone [in terms of history and purity]. But maybe over time the people in the community here will grow to love the sport."
Hamilton also added that despite a large focus on the business side of things, there will surely be a lot of good racing. He also went on to praise the efforts of Liberty Media. He said: "I hear there are a lot of people complaining about the direction [F1 president] Stefano [Domenicali] and [owners] Liberty have been going [but] I think they have been doing an amazing job."
Meanwhile, Alpha Tauri driver Daniel Ricciardo is concerned about the ticket prices, which has gone over and beyond the average prices in other tracks. He said: "I heard some entry level prices and I'm well aware not everyone can afford those. I'd still like general admission be affordable to everyone."
© Copyright IBTimes 2023. All rights reserved.