Prime Minister Theresa May has dropped plans to hold a vote to overturn the fox-hunting ban as she prepares for a long-awaited Cabinet reshuffle.
The Conservatives promised a vote to scrap the Hunting Act - which bans the use of dogs to hunt foxes and wild mammals in England and Wales - during the 2017 general election campaign.
But in yet another sign of her continuing weakness since she lost her commons majority in last June's poll, she told the BBC's Andrew Marr Show today [7 January] there was a "clear message" against it from the public.
The leader now says no vote will take place in the current parliament, expected to last until 2022. A ban was first introduced under Tony Blair's Labour government in 2004.
May is also expected to reshuffle her cabinet, across Monday and Tuesday.
Several newspapers report that Justine Greening will lose her role as education secretary, while the prime minister will also have to replace her former de-facto deputy, Damian Green.
Number 10 is understood to be keen to refresh its approach to education, which was blamed as one of the factors that led to the Conservatives poor showing in last year's election.
Green resigned as first secretary of state last month after May said he had made "misleading statements" to the press about pornography found on his office computer in 2008.
May said: "Damian Green's departure before Christmas means some changes need to be made, and I will be making some changes."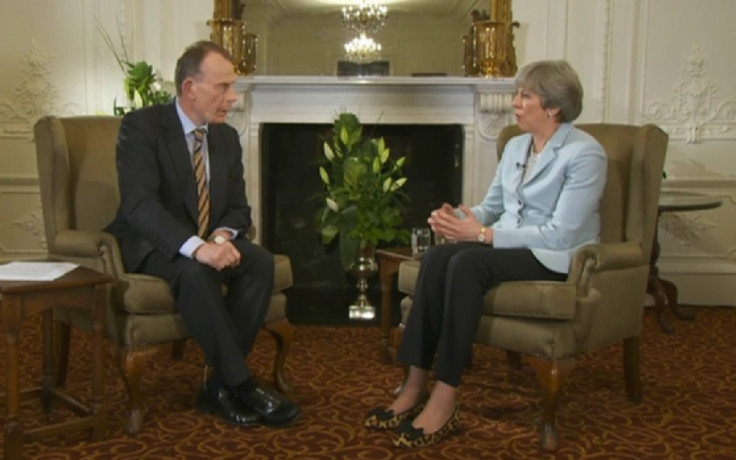 However, foreign secretary Boris Johnson, chancellor Philip Hammond, Brexit secretary David Davis and home secretary Amber Rudd are expected to stay in place as May lacks the authority to upset the key figures in these powerful posts.
In a wide-ranging discussion with Marr the prime minister said that after the first stage of Brexit talks concluded last year, she plans to get a trade agreement with the European Union before the end of this year.
May said it was important UK MPs had a vote on the bill: "The intention is - and Michel Barnier [the EU's chief Brexit negotiator] himself has said - he wants that agreed by October of this year so that that can then go to the European parliament, which has to look at it, and we've said our parliament votes before the European parliament does."
The prime minister also said she did not know about Toby Young's sexist and homophobic tweets before she handed him a key public role.
Toby Young's "sexist" comments
Young was appointed to the board of the new Office for Students last week but almost immediately faced calls to resign over "sexist" comments he made on Twitter.
Remarks surfaced about women's breasts, a defence of porn, a derogatory one about George Michael's sexuality as well one about "extreme lesbians". He was defended by cabinet members Boris Johnson and Michael Gove while a petition demanding his sacking reached more than 200,000 signatories.
Young responded to the criticism saying he was "neither misogynistic nor homophobic" and that he supported women's and LGBT rights.
May stood by Young but said he would be sacked if he made similar comments.
She said: "Toby Young has done exceedingly good work in relation to free schools and that's what led to him being appointed to the office for students. When he was appointed I was not aware of these comments he had made, frankly I'm not at all impressed by those comments.
"He's now in public office and as far as I'm concerned if he was to continue to use that sort of language and talk in that sort of way he would no longer be in public office."
Speaking before May on the Marr show, Labour health secretary John Ashworth said Young's comments were "disgusting, offensive and sexist".