Amir Khan is certainly talking the talk as he continually boasts that he is the one boxer on the planet that can cause Floyd Mayweather problems.
The former light-welterweight world champion has been telling anyone who will listen that he is ready to face the undefeated American, despite scraping past Julio Diaz in an exciting 12-rounder just last month.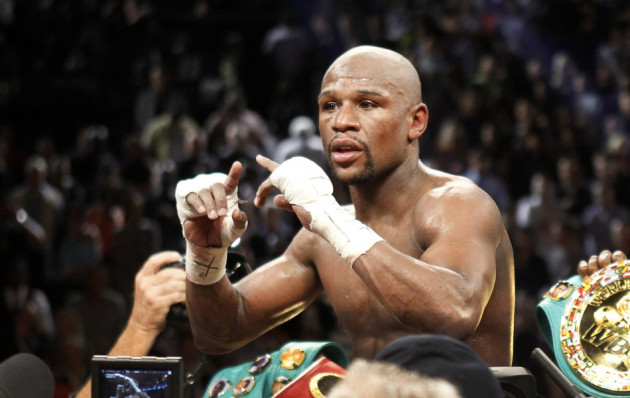 Khan has spoken throughout his career about eventually facing Mayweather and it seems he believes the opportunity may soon be approaching.
Mayweather put on a boxing masterclass to make Robert Guerrero look like nothing more than a glorified sparring partner, despite the 30-year-old being a four weight and six time world champion.
There was nothing he could do to penetrate the defences of Mayweather who once again proved why he is the best pound-for-pound fighter in the world. Yet despite watching this lesson in the art of boxing, Khan still believes he has the skill to trouble the five division world champion.
"None of Mayweather's recent opponents have been able to match how fast he is," Khan told The Sun. "The only thing that can trouble him is genuine explosive speed and that just happens to be my best asset. I don't believe he will be as comfortable against a really fast puncher like me."
Mayweather is contracted to another five fights and few can see anything but the American retiring with his undefeated record intact. The likes of Sual Alvarez, Danny Garcia, Manny Pacquiao and Austin Trout have all been mentioned, but it seems Khan feels he is the only fighter deserving of an opportunity.
"Mayweather may not be around for long," added Khan. "I want my shot. The world's talking about the fight. Garcia and Peterson will be around until I'm around for rematches.
"[Zab] Judah caused big problems with speed and movement against Floyd for 12 rounds, but lasted five against me. Styles make fights. Garcia and Peterson will be around much longer than Floyd Mayweather Jr in boxing. I will take rematches with both at 147lbs."
Khan does have the backing of Golden Boy Promotions and he has been handed the number two ranking in the welterweight division by the WBC, despite never having fought at that weight class.
It seems he is being perfectly positioned for a crack at Mayweather, with even the American fighter's camp discussing the idea of travelling to England to face Khan.
"Tell Khan we're coming for him," was the blunt statement from Roger Mayweather, Floyd's uncle and co-trainer.
Should Khan get the opportunity then it would be a huge pay day for the Brit, but there would be few that give him a chance of being the first man to defeat a fighter who is already assured of his place in the boxing hall of fame.