Mediterranean migrant smugglers: $100 a life jacket in human trade in misery from Africa and Middle East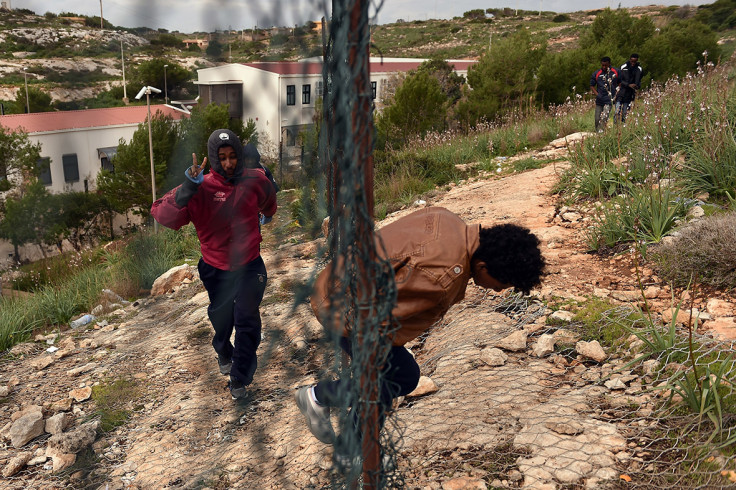 Migrants pay thousands of dollars to smugglers in Libya and other refugee transit hot spots for the privilege of packing on to dangerous and often unseaworthy boats to make the perilous journey to Europe.
The smuggling of migrants to Italy and onward to northern Europe is big business, with individuals paying between $400 and $1,500 (£270 and £1,015) per head for the voyage from Libya and far more if they have come from further south in Africa, according to the International Organisation for Migration (IOM).
The higher cost is for Syrian refugees heading to Europe from Syria, the group said, who tend to be from middle class or more wealthy families and can afford more than their African counterparts. Syrian refugees tend to fly into Sudan or Libya while African migrants travel long distances overland.
Like the drug or arms trade, the trade in human beings is big business, estimated to be worth as much as $32bn by the UN in 2005, although the exact figure is hard to pinpoint. The IOM said as many as 70% of deaths it records refer to migrants who are missing, usually at sea. As a result, it is almost impossible to know how much they paid for their transit. Or who they paid.
Equally, in sub-Saharan Africa, the records of those who have left are extremely difficult to keep, not least because in countries such as Eritrea, families can be fined thousands of dollars if it is discovered that a relative has fled overseas. As a result, whether successful or not, cases are kept secret.
What is known from refugees who have successfully reached Europe and spoken to researchers and NGOs is the criminal gangs that traffic refugees and migrants charge different rates for different nationalities, reflecting not only the wealth of the migrants in question but their social standing.
"Sub-Saharan Africans pay $400 to $700 [but] Syrians pay more than double, up to $1,500 for the crossing," Flavio Di Giacomo, an IOM spokesperson in Rome, said.
"Syrians [...] often travel with their families, with women and children, and are part of the low to middle class of Syrian society. There are a lot of professionals among them, engineers or doctors. They have the means to pay more and smugglers know that."
On the boats, he added, when life jackets are provided, they are only sold to Syrian refugees, at around $100 per jacket, and not to Africans.
Lucrative smuggling routes
The commoditisation of refugee smuggling is the product of the complex migration routes that stretch from Africa and the Middle East to Europe but there are also lucrative smuggling routes between Africa and the more stable countries of the Middle East. Until the recent war in Yemen, many Africans migrated to the country via the Red Sea, while thousands brave the Sinai desert in an effort to reach Israel.
Refugees who have survived the harrowing journey tell horror stories about the gangs that operate in the Sinai and Yemen, with widespread reports of refugees being sexually assaulted, ransomed and often sold into slavery. But though such reports are well known in the refugees' country of origin, thousands still entrust themselves to smugglers that ply these routes every month.
"The fact that the economics of smuggling is the callous driver that explains most behaviour leading to deaths of migrants is perhaps self-evident. When the boats and trucks are overfilled, when food and water are not provided, when passengers are jettisoned in shoreline waters [...] – in any of these and other scenarios – money is behind the mistreatment," claimed a recent report by IOM, Fatal Journeys.
While migrants arriving in countries such as Italy can benefit from at least some form of support from the authorities, there is little or no oversight in countries such as Yemen, where refugees are routinely sold for several thousand pounds on arrival in the country as domestic servants. The practice of traffickers taking money for transit and then kidnapping and ransoming migrants is also rife.
IOM also points to the widespread involvement of officials, military and police in smuggling in Yemen and Sinai. Its rough calculation in a 2014 report was that smugglers' fees in an average year could be as much as $80m.
That does not include the money made from kidnapping and then ransoming migrants once they reach the Sinai, when gangs torture refugees and then force them to call their families and persuade them to transfer money to secure their release.
This practice is increasing as more and more Africans attempt the Sinai route towards Israel. IOM said that in early 2012 the rates for release were $100 to $300 but by the end of that year, it had doubled and in 2013 was as much as $1,000.
Migrants not put off by high fees and threat of abuse
Despite all this, migrants still sign up with the gangs and traffickers in droves, fully aware it is their only option for a better life.
"Their tormentors are also the migrants' saviours if they deliver them to their destination – an irony sufficiently relevant, meaning that every year more migrants queue for the smugglers' services despite ample awareness of the inevitability of abuse," said IOM.
Refugee charities, NGOs and human rights advocacy groups say the only way to prevent gangs in Libya, the Sinai, Yemen and elsewhere from exploiting and ransoming refugees in maintaining their callous disregard for human life in the lawless swathes of the Middle East is for Europe to open its door to refugees, cutting out the middle man.
"People fleeing war and persecution undertake these life-threatening journeys because they do not have another way to reach a safe place," Michael Diedring, secretary General for the European Council on Refugees and Exiles, said.
"We could put smugglers out of business immediately if the EU would create legal channels for refugees to reach Europe."
Sadly, at a time when anti-immigration and even anti-refugee rhetoric is rising in Europe amid austerity and continuing economic malaise, such a significant change of political tack may be wishful thinking. In the meantime, the profits available in the migration economy will likely continue to grow as quickly and as tragically as the death toll.
© Copyright IBTimes 2023. All rights reserved.