Meet Alani Santos the Eight-Year-Old Exorcist 'Saving Brazilian Slums'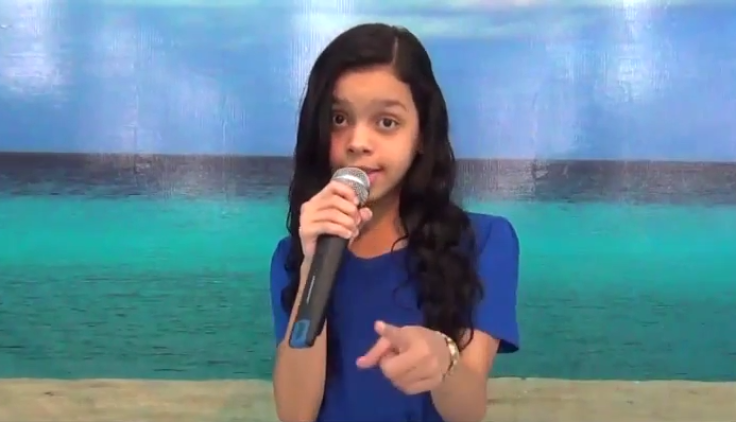 On the outskirts of Rio de Janeiro the eight-year-old daughter of a pastor is giving hope to believers in places where poverty is rife.
In the slums of San Gonzalo, people flock to a small church where Alani Santos claims to exorcise demons and cure the sick.
"When the little missionary touches you, something will happen. You will be cured," says her pastor father.
Exorcism in the poorer parts of Brazil has always formed part of Christian life, but Pentecostalism is on the rise with more churches promising a direct experience of the presence of God. In some ways, Alani is becoming the face of God to those seeking her help.
Describing how she helps people, Alani tells Vocativ: "A lot of the time I touch people, sometimes I just pray and worship and the person is cured."
Asked what the most emotional part of the services she does is, Alani says: "It's the part when I pray and God performs miracles, my dad interviews people and they say they've been cured. That's very pleasing to see."
She also describes the immense privilege she feels to be able to help people.
Alani also preaches herself. At one service she says, with her audience repeating: "I have faith that I will receive my miracle. My enemy has been defeated. I know you're going through this struggle, you have to have faith because it's only getting worse. That's because victory is coming, all you need to do is have faith and seek Jesus Lord."
Members of her congregation claim that she helped cure a man of HIV after seven years. In the video we also see her touch the forehead of a man who then collapses to the ground crying.
In a video posted to her YouTube channel she can be seen "curing" an elderly lady of her need for a walking stick.
© Copyright IBTimes 2023. All rights reserved.