Kendall Jenner told the world "never let that s**t stop you!" after she was criticised for her bumpy skin at the Golden Globes. The model is one of many people vocally reclaiming their acne at the moment.
If you search the hashtag #acne on Instagram, beauty bloggers and their sponsored content on the 'best concealers' or 'hacks for curing acne' no longer dominate the results. Instead, there is a gallery of candid, unfiltered images of everyday people's red bumps and it is the result of a very significant movement.
It comes amid an increase in the number of people seeking treatment for their acne. A survey of 92 private dermatology clinics reported a 214% increase in those seeking treatment, with more than one in three found to be aged 35 or over according to a survey in 2015 in the UK. In addition, last year, the American Academy of Dermatology confirmed that 40 to 50 million Americans were afflicted with the skin problem and increases in acne diagnoses being labelled an "epidemic" by The Telegraph.
The cultural shift - from shame at unclear skin to acceptance and celebration - has come about because of the efforts of models, bloggers, photographers and members of the public using mainly Instagram to tackle acne stigma.
Em Ford and Hannah Shields are both bloggers with major social media reach who have been using their platforms to discuss acne for years.
At 26 and an ex-model who left the industry disillusioned, Em Ford, otherwise known as 'MyPaleSkin', has grown a one million Instagram and one million YouTube following and is arguably the most famous acne activist in the world.
After receiving comments such as "revolting" and "ugly" when she posted make-up free images of herself, she made a video entitled: "YOU LOOK DISGUSTING" back in 2015. Since then, it has been received 27 million views and inspired a discussion about hateful online comments.
Featuring the worst things people had said about her skin, it makes for powerful viewing and gained a huge amount of attention. As well as coverage by international news outlets, Kylie Jenner shared her admiration for Ford, saying she was "obsessed" with her and that she was "proving to the haters that #IAmMoreThan my acne".
Ford told IBTimes UK: "When I first began detailing my acne and my skin journey on Instagram back in 2015 I didn't see anyone else with skin like me. I didn't see anyone sharing their stories, feelings or what they were going through - and that was difficult. I received an intense level of abuse for sharing my story and my skin with the world, but it didn't stop me.
"After posting [the You Look Disgusting video] things began to change for me. To now see other women proudly sharing their skin makes me so happy - and I am waiting for the day where it is no longer 'taboo' to post a bare-faced image - but completely normal and natural."
Like Ford, Hannah Shields, 25, from Northern Ireland used Instagram and blogging to change the perception of 'problem skin'.
Despite being a less visible blogger, she gained an audience from her 'honesty posts' on Instagram. Under the hashtag 'hannahsroadtoclearerskin', she tracked her skin woes - its ups and downs - by sharing her unvarnished selfies and feelings at the time.
She told IBTimes UK: "It's almost becoming acceptable to be bare-faced - but that's how it always should be!"
After always suffering with acne for as long as she can remember, she began blogging a year before her wedding in 2010 in a desperate attempt to achieve 'flawless' skin by tracking the effects of a skincare routine. This took an unexpected turn when she eventually found herself more interested in embracing her spots instead.
"Since starting my acne blog I have seen so many other individuals putting their face forward and going bare-faced! It's really encouraging."
Whilst bloggers are trying to create a more open space for people with acne to come forward, there is also a culture of perfectionism and airbrushed skin in magazines and on television.
Peter Devito, 20, is a New York-based photographer and student who took a series of images in which models had blemished skin and messages across their faces. Multiple international outlets reported on the pictures which gained thousands of likes on Instagram.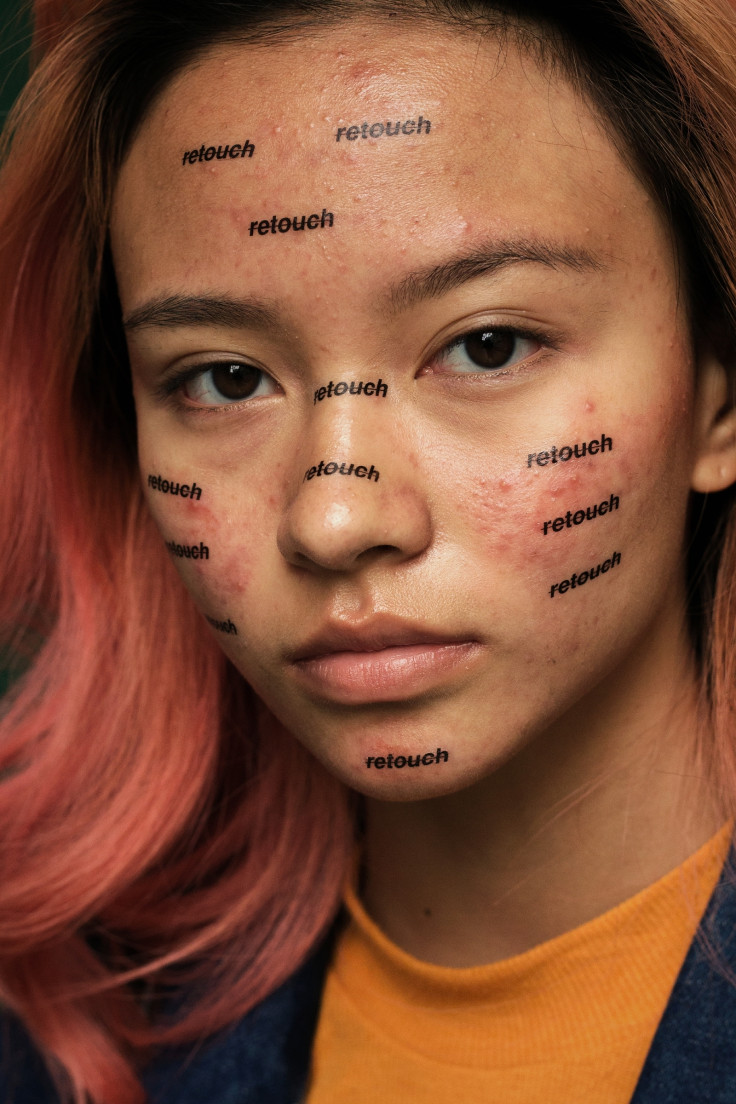 His objective is to work for well-known publications but shoot without retouching at all.
He told IBTimes UK: "I decided to do this series because I wanted to give people who struggle with acne a voice. I kept seeing more and more posts about body positivity and self-acceptance on social media, but very few people were addressing the issue of how society views acne."
With regards to overcoming the stigma surrounding acne, he thinks that there is definitely change happening.
"I would definitely agree that there is a movement at the moment about embracing your skin. People are beginning to acknowledge that everyone doesn't have 'perfect' skin, and that if you don't, it's okay."