Meet Cecil the Lion's killer: US dentist Walter Palmer allegedly beheaded majestic lion of Zimbabwe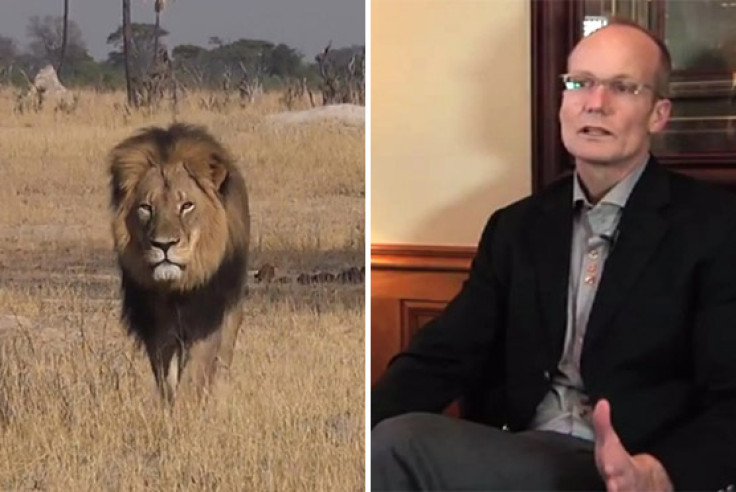 The killer of Cecil the Lion, a much-loved lion on a Zimbabwean nature reserve, has been exposed as a US dentist. Walter Palmer, from Minnesota, is believed to have paid £35,000 ($50,000) to shoot the famed lion with a bow and arrow, reports the Telegraph. Two independent sources revealed the identity of the hunter to the newspaper and provided the relevant hunting permit as evidence.
Conservation groups expressed shock after the lion was shot dead on 1 July. Cecil was well known attraction to the park and wore a GPS tracking collar as part of a University of Oxford research project.
The lion was killed after being lured out of the park with food, shot with an arrow, then tracked for 40 hours and finished off with a gun. The 13-year-old animal was then beheaded and skinned for trophies.
"He never bothered anybody," Johnny Rodrigues, the head of Zimbabwe Conservation Task Force, told the paper. "He was one of the most beautiful animals to look at."
A professional hunter, Theo Bronkhorst contacted authorities the day after the lion was killed to say a mistake had been made. He and the owner of the land bordering the park have been arrested.
In a statement today, Zimbabwe's National Parks and Wildlife Authority and the Safari Operators Association said that both men will appear in court soon, and face poaching charges. It claims an American tourist who had left the country killed the lion.
Palmer paid to be a member of the hunting party and is pictured on hunting blogs showing off previous kills, including a 175Ib leopard killed killed in Zimbabwe in 2010, an elk and a Nevada Bighorn sheep.
On his dental practice's website he is described as a father of two "who enjoys all outdoor activities. Anything allowing him to stay active and observe and photograph wildlife is where you will find Dr. Palmer when he not in the office."
He allegedly featured in a New York Times profile of US big game hunters, in which he is described as "capable of skewering a playing card from 100 yards with his compound bow", and served a year on probation after lying to officials about the exact location he shot dead a black bear during a guided hunt in Wisconsin.
Hunting with a bow and arrow is only permitted in private hunting concessions in Zimbabwe, never in national parks. Police are currently searching local taxidermists for the lion's head and pelt.
© Copyright IBTimes 2023. All rights reserved.