Meet Fusilier Llywelyn, the newest recruit of the 1st Battalion of the Royal Welsh Regiment. He is the latest in a long line of goats recruited by the regiment since 1844, when Queen Victoria presented the Royal Welsh Fusiliers with its first official regimental goat. The appointment of the new kid on the block follows the death last year of the 2nd Battalion's Lance Corporal Gwillam 'Taffy VI' Jenkins.
As well as his daily exercise regime working alongside Goat Major Fusilier Matthew Owen, Llywelyn will be be involved in a host of official roles including leading the 1st Battalion The Royal Welsh on all ceremonial duties. He has also been given an invitation to parade in London as part of the Queen's 90th birthday celebrations.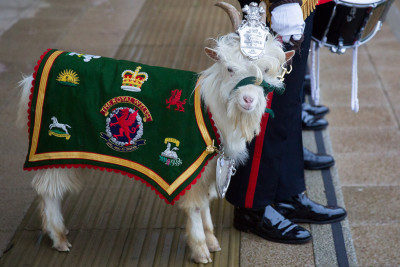 Fusilier Llywelyn was selected from a royal herd of goats living on the Great Orme, a headland on north coast of Wales near the town of Llandudno. This herd is descended from 200 Kashmir goats that were presented to Queen Victoria by the Shah of Persia shortly after her coronation in 1837.