He's the former missionary who allowed 11 executions as governor of Virginia, but earned the worst possible rating from the National Rifle Association. Meet Tim Kaine, Hillary Clinton's choice as vice-presidential running mate in her bid for the White House.
Announcing her choice in a text message to supporters, Clinton said she was "thrilled" with her choice in 22 June, before taking to Twitter to describe Kaine as "a man who has devoted his life to helping others".
Her choice of the man who once described himself as "the most boring man in politics" marked the end of a long and secretive selection process.
The son of a welder, Kaine was born in St Paul, Minnesota, but raised in Overland Park, a suburb of Kansas City, Kansas. There he attended an all-boys Jesuit high school where he told a C-Span interview that he was "kind of a nerdy student" who always had his nose in a book.
"I was active in student government and in the student newspaper," he said.
From there he went on to the University of Missouri where he completed a BA in economics before going on to Harvard Law School. There, he decided that he needed to "step away from the treadmill" and "decide on my path in life".
At high school, he visited a Jesuit mission in Honduras and he "had always thought that maybe I could go and volunteer one day".
So after writing the mission a letter, he travelled to the Central American country where he ended up running a vocational school that "taught kids to be carpenters and welders", he said. The little bit of iron working he'd learned from his father allowed him to do that, he told C-Span.
He also learned Spanish, a language he continues to speak fluently and a skill which some commentators believe could help the Clinton campaign's outreach with America's large Hispanic community.
On his return to Harvard, he met Anne Holton, his future wife and the daughter of the former Virginia governor Linwood Holton. A moderate Republican, Holton placed Anne and her three siblings in predominantly black public schools after a federal court decision desegregated them.
Both 58, Tim and Anne were part of a group of law students that went out to do hearings in prisons.
"She made chocolate cookies for the group once and she claims that after them I was a goner," Kaine joked in the C-Span interview.
A life of faith
After graduating from Harvard, the couple married in 1984 in Anne's hometown of Richmond, Virginia where the couple decided to settle. There, they joined the mostly black Roman Catholic church St Elizabeth, where Kaine sings in the gospel choir.
"No one would ever mistake me for Al Green," he told the Washington Post in a 2012 interview. "But I do love to sing."
He still travels with three harmonicas and has played with Boyd Tinsley, Bruce Hornsby, Ricky Skaggs, Dan Tyminski and the Cary Street Ramblers.
He added: "Anne and I both decided early on that reconciliation would be the mission of our lives."
She went on to become a judge and currently serves as secretary of education in Virginia. They have three children Nat, Woody and Annella.
Nat is a Marine Corps reservist who has been on active duty since January 2013, while Woody was attending Carleton College in Minnesota. Annella is currently studying at New York University with a major in theatre and is set to graduate in 2017.
From law to politics
Kaine began practising law, representing death row inmates and victims of housing discrimination. An early success saw him win $100.5m (£76.6m) in a discrimination case against Nationwide Insurance. It was later overturned on appeal and his team negotiated a $17.5m (£13.3m) settlement.
His first foray into politics came when he won a seat on the Richmond's city council in 1994. Fouryears later his colleagues voted for him to be mayor.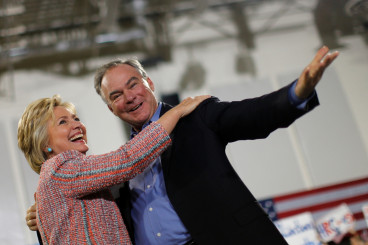 But it wasn't all plain sailing and he was criticised by the National Association for the Advancement of Colored People (NAACP) when he supported the keeping of an image of Confederate civil war general Robert E Lee in a city mural.
"Much of our history is not pleasant. You can't whitewash it," he said at the time.
He made the jump into statewide politics in 2001 when the sister of the famous American newscaster Katie Couric, Emily, pulled out of the race for lieutenant governor because she was suffering fromm pancreatic cancer. She would die from the disease that October.
Four years later, despite being widely considered an underdog, he went on to beat Republican candidate Jerry Kilgore to become Virginia's governor.
While personally opposed to capital punishment, he nonetheless allowed 11 executions to proceed, telling voters he had an obligation to carry out the state's laws.
His support for free trade and the deregulation of local banks also made him unpopular with some members of his own party, and, while as a practising Catholic, he is personally opposed to abortion, he has nonetheless proved committed to a woman's right to choose.
Virginia Tech massacre crucible
Perhaps his biggest test came following the Virginia Tech shootings when the student Seung-Hui Cho gunned down 32 people and wounded 17 others in two separate attacks before killing himself.
While Kaine was praised in the immediate aftermath of the tragedy, he was later criticised by some of grieving family members when he refused to fire the chancellor of the state-run university.
With his state being home to the National Rifle Association (NRA), Kaine was perhaps aware that attempts to restrict gun rights would prove futile, so he instead used his executive powers to expand mental health services in the state.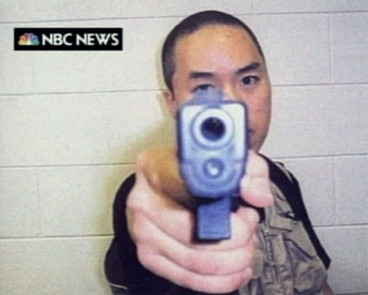 But that didn't stop the four-million member organisation from giving him an 'F' rating – the lowest possible, indicating Kaine supported heavy restrictions on gun ownership – which it say reflects his voting record on gun rights.
"As chairman of the Democratic National Committee, Tim Kaine strongly supported the nomination of Sonia Sotomayor for the US Supreme Court — the same Sonia Sotomayor who signed an opinion saying that Americans do not have an individual right to keep and bear arms," the organisation said. "As a Richmond councilman, Kaine suggested that the city of Richmond team up with Fairfax and Norfolk to push gun control laws."
After weathering the storm after the Virginia Tech massacre, Kaine became one of the first people to announce his support for Barack Obama over Hillary Clinton in 2008 and was tipped to be his running mate, before Joe Biden was selected.
But on the new president's recommendation he took over the chair of the Democratic National Committee (DNC) where he oversaw the expansion of the party's grassroots following.
Return to the House
Following democratic senator Jim Webb's decision not to seek re-election in 2011, Kaine ran, defeating the state's former senator and governor, George Allen.
After winning his seat in 2012, the following year Kaine hit the headlines when he delivered a speech about an immigration bill entirely in Spanish, becoming the first senator ever to do so in a language other than English.
He also served on Senate committees overseeing armed services and foreign relations, meaning he is fully up to speed on national security and international affairs – an area where Donald Trump is often accused of lacking knowledge.
The Clinton campaign will undoubtedly be hoping that Kaine's deep religious faith and broad Midwestern appeal might help them win the swing states, including Virginia. Whether he can help pave her path to the White House remains to be seen, but Kaine has never lost an election and Clinton will be hoping that record can continue.