In the world of Silicon Valley one-upmanship, Google has revealed new designs for its futuristic campus that will rival Apple's spaceship Apple Park HQ for jaw-dropping office architecture.
The proposal to build a second, smaller campus just a short distance from its Googleplex HQ in Mountain View were first drawn up in 2015, but have since been revised and the latest changes have been released to the city officials. The plan is for a two-level 595,000 sq ft office building situated on the 18.6-acre plot, which was acquired in a land swap with fellow tech firm LinkedIn. The new structure would be situated just a 15-minute drive across Silicon Valley to Apple's new world-beating offices.
New images of the proposed building and surrounding site called Charleston East show a large, square-shaped, canopy-covered structure that dwarfs neighbouring buildings. Google will house offices for some of its workers as well as have restaurants, shops and meet-up spaces for the public to enjoy – not just exclusively for Googlers. The offices will be situated on the second floor of the campus so as not to disturb the creatives at work.
The tent-like canopy not only looks radical but is cleverly designed to regulate climate, air quality and minimise sound coming from within the complex thanks to large slits in the material. Outlying green spaces and open areas in the renders show off walking trails, cycle paths, places to picnic, practice Tai-Chi and push baby buggies all within what Google is calling a "Green Loop". In one image, one of Google's self-driving cars is spotted parked outside the campus.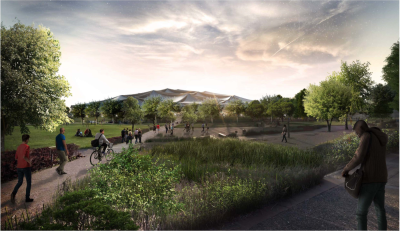 Previous proposals for the campus involved lightweight structures that could be moved around as the tech giant invested in new projects and required to make space available as and when they needed it. It seems this plan has been put to the wayside.
Google's submitted plans says it's a "destination for the local community" which may hold some appeal to planning officials who have yet to sign-off on the project. It is estimated that if the green light is given it will take only 30 months to complete the build.
This stands in stark contrast to Apple's much-hyped spaceship looking Apple Park. The new headquarters for the Cupertino company is finally approaching a finishing date after six years in the making. A move-in date of April has been revealed where staff can take in the circular construction along with its world's largest panes of curved glass, painstaking attention to detail and toilets that reflect the minimal design of its iPhones.