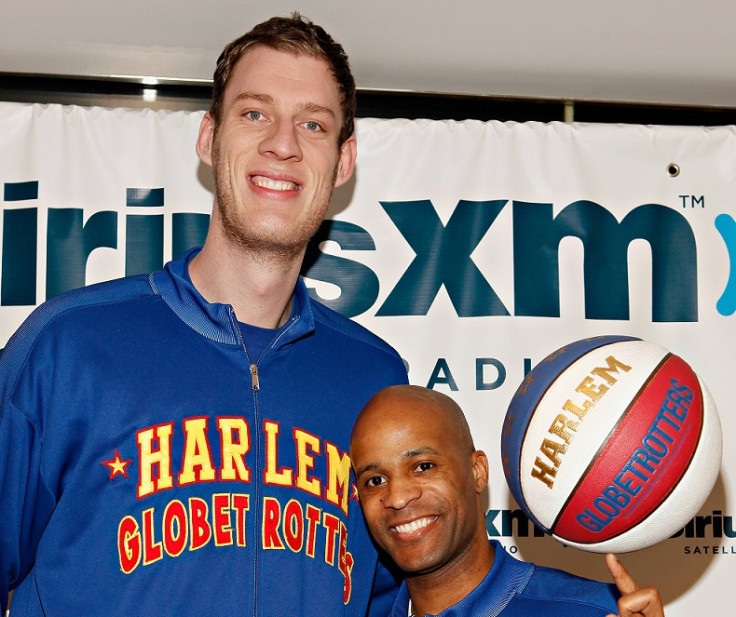 English basketball player Paul Sturgess has become the tallest man in Britain after the death of Neil Fingleton, who played the giant Mag the Mighty in Game of Thrones.
Fingleton, from Durham, was 7ft 7in tall and was a basketball player in the United States before becoming an actor, working on both X-Men and Dr Who. He died at the age of 36 on 25 February, reportedly of a heart attack.
Sturgess, born in Loughborough on 25 November 1987, is also a basketball player. He played for the Cheshire Phoenix of the British Basketball League, but started playing for the Harlem Globetrotters in August 2011.
The 29-year-old is the tallest man in history to play for the team, at a height of 7ft 7.25in. He is also currently the tallest basketball player in the world.
When he joined the Globetrotters, Sturgess was accompanied by fellow player Jonte Hall, who at 5ft 2in is the shortest player to have ever joined the team.
Sturgess began playing basketball at the age of 14 at school. He was around 7ft tall at the age of 16, when he played at Burleigh Community College. By the time he left school at 18, Sturgess was over 7ft.
"I was a lot taller than the other kids and I was encouraged to try basketball. I loved it straight away and had the height advantage," Sturgess said in an interview with local newspaper Leicester Mercury.
"I get people looking at me all the time. It took a while to get used to, but now it doesn't bother me at all because people know who I am."
Between the ages of 16 and 17, Sturgess grew by one foot as a result of a growth spurt. His height is genetic, rather than the result of a disorder, although his father is 6ft 9in and his mother is 5ft 5in. He now wears a size 18 shoe.
In 2007, Sturgess featured in the ITV documentary Supersize Kids: Britain's Tallest Teens.