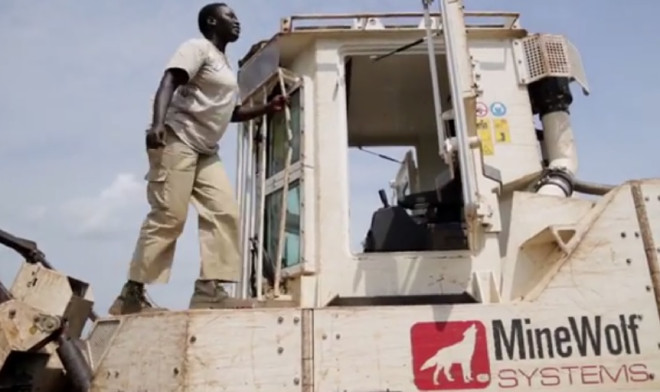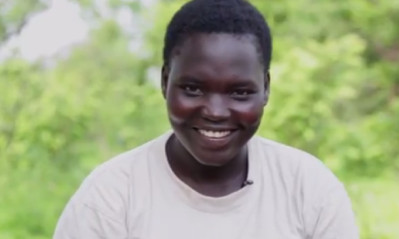 Nancy Sunday, a young mother in South Sudan, actively goes out looking for trouble.
As the first female operator of MineWolf, an armoured vehicle which crushes or detonates land mines that are buried beneath the surface, she has one of the most dangerous jobs in the world.
Following more than 50 years of civil war and a six-year comprehensive peace agreement, the Republic of South Sudan became the world's newest country in July 2011.
Throughout the conflict, land mines were laid down by armed forces on both sides, to defend their territories and to disrupt the movement and operation of enemies.
Post-civil war, their pervasive use continues to have a very serious impact on communities. Each year, people are maimed or killed and the movement of humanitarian aid is disrupted. The socio-economic cost, as the economy is predominantly rural and relies chiefly on subsistence farming, is incalculable.
Yet Sunday is one of those people charged with making a difference to the situation.
For a country in which 80% of women are illiterate, and jobs are usually reserved for their male counterparts, hers is a significant achievement.
In a short film created by the United Nations Mine Action Service, Sunday explains her position: "It's important to take out the mines because when there are mines here, people can't work, can't cultivate. When they cultivate, sometimes the mines detonate and kill the locals."
"Since I was young, I wanted to be a driver. And now, after I struggled and struggled, I became a driver."
Organised by the Norwegian People's Aid, Nancy spends months in a single area – clearing it of all land mines and explosive remnants of war (ERW) so that the land can be safely cultivated.
Although Nancy is relatively protected in her vehicle, the job has its risks as the landmines often detonate underneath her.
"South Sudan is now independent. We can do what we want to do in our country. I think it's improving that the mines are cleared. When we clear them all, there will be no more landmines," she says.
Men and women live and work side by side in the camps, which are set up in known contaminated areas. The NPA hires operators of both sexes to encourage equal opportunity, allowing South Sudanese women to have involvement in the reconstruction of their country.
Nancy is changing traditions in a country where women hold few economic rights – and proving that women can do jobs ordinarily reserved for men.
Although many of the women are professionals, they are also mothers. Nancy's son, Jonathan, lives with her in the camp.
"When Jonathan grows up, he has to go for his studies, until he finishes school, so that he will help me in the future when I am old," she says.
"I need to make the country clean so that we don't have accidents. That's why we are here, working."
UNMAS is working to increase the participation of women in all sectors of mine work, in collaboration with 11 other UN agencies, programmes and funds.