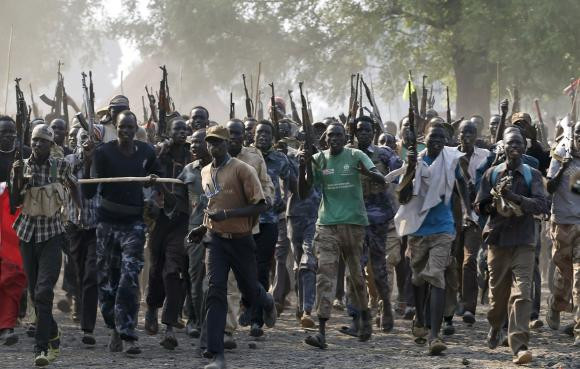 Civilians in South Sudan have been subjected to rape, extrajudicial arrests, torture and pillaging, motivated by ethnic prejudice by armed militia of the warring factions, according to a UN report.
The interim report prepared by the UN Mission in South Sudan (UNMISS) based on testimonies of over 500 people, notes that it is "clear that civilians bore the brunt of much of the fighting and that gross violations of human rights were committed".
Human rights abuses are suspected to be most severe in the war-torn regions of South Sudan, which are contested both by armed forces loyal to President Salva Kiir from the Dinka tribe and former deputy president Riek Machar, who belongs to the rival Nuer clan.
"Numerous witnesses reported the deliberate targeting of both national and foreign civilians in extrajudicial and other unlawful killings, including mass killings, enforced disappearances, gender-based violence, such as rapes and gang rapes, and instances of ill-treatment and torture by forces from both sides of the conflict," the UN Mission said in a news release.
The South Sudanese army and rebel forces have accused each other of committing war crimes and murdering civilians.
Soldiers of the Sudan People's Liberation Army (SPLA) reportedly killed members of the Nuer tribe in Juba during the 72-hour crisis period in mid-December.
More recently, about 20 SPLA soldiers were arrested by the government for allegedly murdering civilians, Col Philip Aguer, South Sudan military spokesman, told AP.
However, several offences committed by the rebel faction led by Machar have also come to light. Nuer youths reportedly killed Dinka civilians and mass graves in Juba, Bentiu and Rubkona are under investigation by UNMISS.
At least 10 unarmed civilians were killed at the Malakal Teaching Hospital by rebel forces, according to eyewitnesses in the area even as extra-judicial executions of two children outside the UN compound by armed Nuer militants were reported by UNMISS.
Malaka is a key oil hub of the country and anti-government forces have reportedly seized control of the strategic town, presidential press secretary Ateny Wek Ateny told reporters in Juba.
He said the rebel forces have clearly violated the ceasefire agreement signed in January during the Addis Ababa negotiations.
Malakal was found to be in ruins and "had been looted and appeared to be generally empty of civilians," according to the UNMISS report.
Secretary-General Ban Ki-moon's spokesperson issued a statement expressing deep concern over "reports of renewed heavy fighting in Malakal, Upper Nile State", and the resulting "catastrophic consequences for civilian populations".
"Those responsible for crimes committed against civilians in South Sudan will be held accountable," Ban said, appealing to both the state and rebel forces to respect human rights.
UN estimates that more than 870,000 civilians have been internally displaced, and about 145,000 have fled to neighbouring countries since the fighting started about two months ago.
Thousands of people are suspected to have died in the bloodshed triggered by power struggle between the Presiden Kiir and the rebel leader Machar over the control of strategic regions in the country.