Meghan Markle, Prince Harry caught on kiss-cam moment at NBA game
The Duke and Duchess of Sussex spent date night on Monday watching the Lakers vs. Grizzlies NBA playoff game.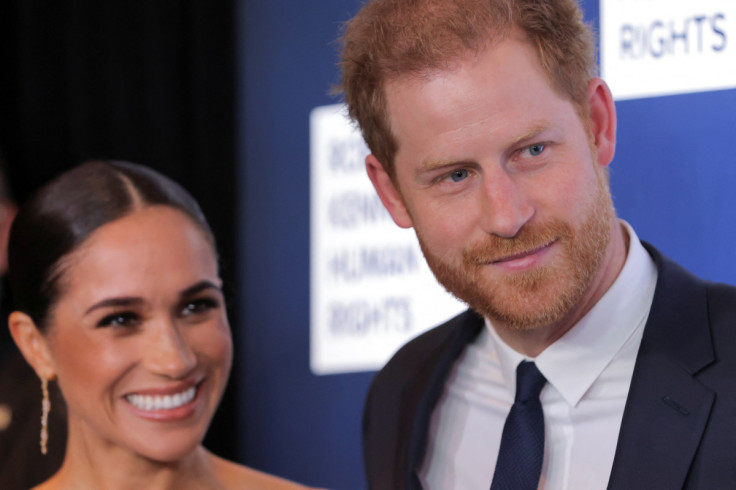 Prince Harry and Meghan Markle avoided a kiss-cam moment when they appeared on the jumbotron during Monday's playoff game between the Los Angeles Lakers and the Memphis Grizzlies at the Crypto.com Arena.
A video shared by the National Basketball Association (NBA) on Twitter showed the Duke and Duchess of Sussex looking relaxed and happy as they watched the game. At one point, the 38-year-old appeared to lean in for a kiss from his wife who playfully avoided the smooch and squeezed his arm instead.
The video has been viewed over three million times and netizens shared their happiness at seeing them having a good time. One wrote, "We love to see them so happy" and a second chimed in, "Love it!!! So great to see them happy and enjoying each other! Go Harry and Meghan!!"
"It's not often we see Prince Harry and Princess Meghan out having a fun time. Great to see them at the Playoffs and they seem to be having a great date night," a third said.
Other photos from the outing showed the couple cheering on the home team who won 117-111. Meanwhile, others could not help but notice how loved-up Prince Harry and Meghan Markle still look after four years of being married. "They look so in love," one wrote and a second commented, "Love them! Meghan how could you not see Harry was going in for a kiss?"
Another even compared the crowd's response to seeing the couple on the jumbotron to that of Prince William and Kate Middleton's appearance during a Celtics game in December 2022. The Sussexes were cheered while the Prince and Princess of Wales received mixed reactions. According to reports, there were some who even booed at them.
One tweeted, "Ahhh, and the Lakers fans weren't booing them. I thought the BM said they were unpopular in the U.S. Guess they were wrong. I can see the headlines in BM tomorrow that Harry and Meghan are trying to upstage the Coronation. Seriously, they were just enjoying an NBA game together aka date night."
The Duke and Duchess of Sussex enjoyed date night away from their children Prince Archie and Princess Lilibet. They reportedly also treated their team at Archewell Foundation to a private suite at the game.
According to The Sun, the couple was joined by their lawyer, PR exec, and other Archewell employees. Aside from the former working royals, other celebrities who turned up on Monday's star-studded game included Kim Kardashian, her son Saint West and her mother Kris Jenner, actor Adam Sandler, and rapper P. Diddy or Sean Combs.
Prince Harry and Meghan Markle's outing comes after their friend, and the duchess' long-tome makeup artist Daniel Martin told People that "Harry has definitely found his vibe and is very settled in California. But he does miss home."
The couple's date night at the Lakers game also comes after the former "Suits" star made a surprise video appearance to introduce her good friend Misan Harriman at his recent TED talk. It also comes after their representative and Buckingham Palace both confirmed that she would not be attending King Charles III and Queen Camilla's coronation at Westminster Abbey on May 6.
Instead, Prince Harry will attend the ceremony by himself while his wife stays in California with their children. The coronation date also happens to fall on their son Prince Archie's fourth birthday. According to the publication, it will be a "low-key party at home" in their Montecito mansion and Meghan Markle will have "support that weekend" as there will be friends over, and of course, her mum Doria Ragland will be there too.
© Copyright IBTimes 2023. All rights reserved.