Police in Peru have released a video of the British and Irish women being held on suspicion of drug smuggling.
Melissa Reid,19, from Lenzie, near Glasgow, and Belfast-born 20-year-old Michaella McCollum Connolly from Dungannon, Northern Ireland, were arrested in the Peruvian capital of Lima after police found more than 11kg (24.2lbs) of cocaine in their luggage, estimated to be worth £1.5m.
Police allege the women have been working as "mules" to smuggle drugs from South America to Europe.
Pictures of the cocaine found hidden inside food packages in the pair's luggage were also released by the National Police of Peru.
In the footage released by police, Reid can be heard saying she was "forced" to carry the bags containing the drugs in her luggage. When asked by police if she knew if the bags contained drugs, she replied: "I did not know that".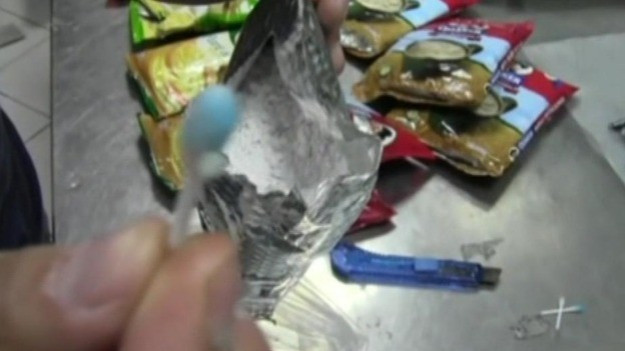 If found guilty of drug smuggling, the women face up to 25 years in jail. Last year, Peru became the world's highest producer of cocaine.
The pair were arrested after trying to board a flight to Madrid. It is believed they were planning to travel to the Spanish capital and then to Majorca.
They are believed to have been living in Ibiza since June, where Connolly had reportedly been looking for work as a nightclub dancer. Reid's mother said she had no idea her daughter had travelled to Peru.
The family of Connolly, known as Kayla, had launched a Facebook campaign to help find her after they were not able to contact her for nine days.
Her sister Samantha wrote: "Her phone is off and her Facebook page has had no activity. None of Michaella's new friends have been able to contact her also. Michaella comes from a very close and loving family and we are all worried that she has not been in contact and we cannot contact her."
The Foreign Office in London said, "We are aware of the arrest of a British national in Peru this week and are providing consular assistance."
Ireland's Department of Foreign Affairs also said it providing consular assistance to Connolly's family.