Team GB's men eight claimed bronze at Eton Dorney as Greg Searle's attempts to become Olympic champion 20 years after his gold in Barcelona came to a disappointing end.
Searle came out of retirement in 2009, 10 years after retiring from competitive rowing, in preparation for London 2012, but after breaking back into the British eight, failed in his attempts to repeat his gold from 1992.
Despite leading with 700m remaining, the unbeaten German's powered to the line, with defending Olympic champions from Beijing, Canada, coming through in second, as Team GB tired in the final 500m.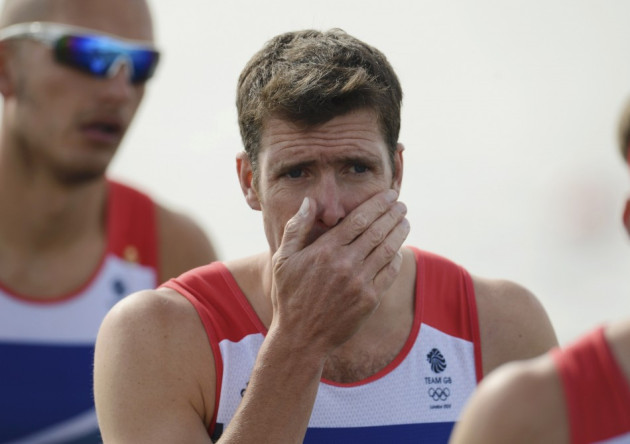 Searle, 40, said: "It's been fantastic the whole time, the whole three years absolutely brilliant.
"There's some good people here, it's an amazing event the Olympic Games. I don't think we could have given it anymore. We said before the race we want to be able to look ourselves in the mirror and say we have given it everything and I think we did."
With Britain leading going into the closing stages, the partisan crowd began to stir to assist a gold medal surge, and Seale admits upon going into the lead with a third of the race remaining, he dreamt of the gold medal.
"Yeah I did," he said. "I had an amazing rush of adrenaline when Phelan [the cox] said we were in the lead and that he was sitting level with the German strokeman.
"I knew we had just gone into the lead I thought it was really could come true. We raced hard from the start and the crowd was just amazing, they were so loud, but I could still focus on rowing. But we didn't have anything left and I guess they came back at us in the last bit."
Known for their strong finish, Britain started quickly in an attempt to keep with the German boat, and Matthew Landgridge admits the team sacrificed winning silver, in an attempt to claim gold.
""I think obviously we failed, we went for the gold and when it doesn't come off you can't help but feel like you've lost.
"It was different to four years ago when we never put ourselves in that place to win it and that really hurt but today we did everything we could do to go for gold and we didn't make it.
"If I was to do it again I would still risk everything for gold, ok we've lost a silver for it but I don't care but we went for gold and that's something we can be proud of."
Meanwhile, the British men's quadruple skulls reached the Olympic final for the first time in history, after finishing third in their heat behind the crews from Croatia, who are unbeaten in 2012, and Australia.
A member of the boat, Tom Solesbury, said: "It was really good and I enjoyed it. We knew Croatia would be fast and Russia always start quickly, but we thought the Russians would fade in this headwind in the second half and we were ready for that."