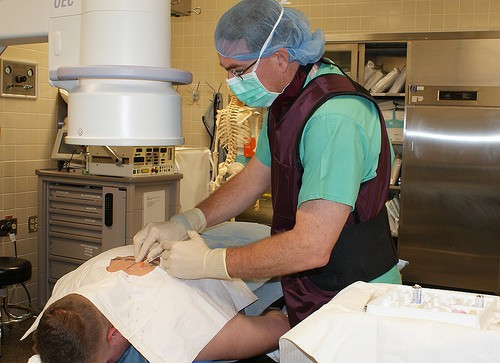 A rare outbreak of fungal meningitis that has killed five people in the US and infected up to 50 across seven states has been linked to contaminated steroid injections.
Tennessee, Virginia, Florida, Maryland, North Carolina, Indiana and Michigan are the seven states where cases of meningitis have been reported.
Three deaths have been reported in Tennessee and one death each in Virginia and Maryland.
Tennessee, where the outbreak began, has the largest number of cases reported, 29 so far. People fell sick after receiving injections, mainly for back pain.
Authorities found contamination in a sealed steroid vial at the New England Compounding Center, a pharmacy firm based in Framingham, Massachusetts.
Though the company has recalled the vial and halted operations, the medicine has already been transported to 76 medical clinics in 23 states.
Health officials have warned medical clinics to alert people who have already received contaminated steroid injections. It is not clear how many patients have been infected.
"Out of an abundance of caution, we advise all health care practitioners not to use any product (from the company)," said Ilisa Bernstein, director of compliance for the FDA's Center for Drug Evaluation and Research, the BBC reported.
However, the Centers for Disease Control (CDC) maintained that the strain of meningitis is not infectious, though it is life-threatening.
Meningitis is an inflammation on the lining of the brain and spinal cord. Symptoms include severe headache, nausea, fever and neurological problems such as slurred speech and difficulty walking.