A mentally disabled 12-year-old girl is in critical condition after she was allegedly gang-raped by a headteacher and three other teachers at a school in India.
The attack reportedly took place at the Rajkiya Madhya Vidyalaya school in Kako, part of the Jehanabad district in the north-eastern state of Bihar, on Sunday (15 January).
The girl's mother is thought to also be a PE teacher at the government run institution. As a single parent she often took her daughter into her place of work as there was no one to look after her at home.
Police have stated that they believe the girl's mother was teaching children at the time of the incident.
Local media reports say that the mother was approached by several pupils who came running to her saying her daughter was bleeding heavily.
Alternative accounts suggest that the mother found her daughter on the roof of the building after searching the school grounds.
The mother told the Indian Express: "She is my only child. She is not mentally sound. As there is no one to take care of her at home, she accompanied me to school."
Police say the victim named four men as suspects during a recorded statement. They include headmaster Aju Ahmad and three other teachers Atul Rehman, Abdul Bari and Md Shaukat.
The mother told the Hindustan Times that her daughter was in a bad condition: "As my daughter's condition worsened and the bleeding did not stop, I took her to Patna by train and admitted her at the Patna Medical College and Hospital.
"She was referred to the maternity ward after the emergency ward did not accept her case," she said, adding that she hoped her daughter would recover quickly from her horrific ordeal.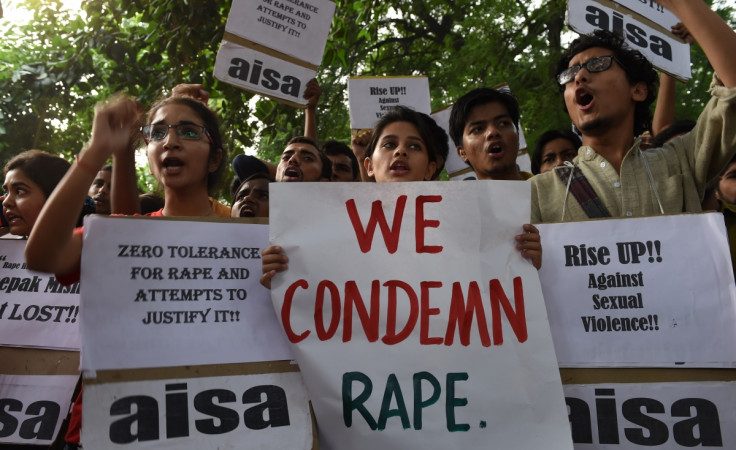 Station house officer of the women's police station in Jehanabad, Kusum Baharti, said: "Prima facie, the incident appears true and raids are on to arrest the culprits". It is not known when charges will be brought or if thee alleged offenders remain in custody.
Rape was the fourth most common crime in India according to the National Crime Records Bureau figures released in 2013.
The incident comes just days after a 38-year-old tailor from New Delhi confessed to sexually abusing more than 500 girls in 12 years, police claim. The father-of-five was arrested on 15 January for allegedly molesting a further two girls.