Mercedes F015 is the autonomous, hydrogen-powered car of the future
Cars of the future will be mobile living spaces rather than modes of transport, claims Mercedes, which has shown off its latest, hydrogen-powered glimpse at the future of motoring.
Called the F015 Luxury in Motion concept, the car was revealed at the CES technology trade show in Las Vegas and is powered by a plug-in hydrogen fuel cell and two electric motors developing 268bhp and zero emissions; the car has a theoretical range of 684 miles, more than double that of the Tesla Model S and six times that of most all-electric cars from the likes of Ford and VolksWagen.
That range is made up of 124 miles on the lithium ion battery, plus 559 miles on electricity generated by the hydrogen fuel cell. The battery can be charged by induction, so there's no need for a cable.
"Anyone who focuses solely on the technology has not yet grasped how autonomous driving will change our society," said Mercedes-Benz boss Dieter Zetsche at the unveiling of the concept. "The car is growing beyond its role as a mere means of transport and will ultimately become a mobile living space."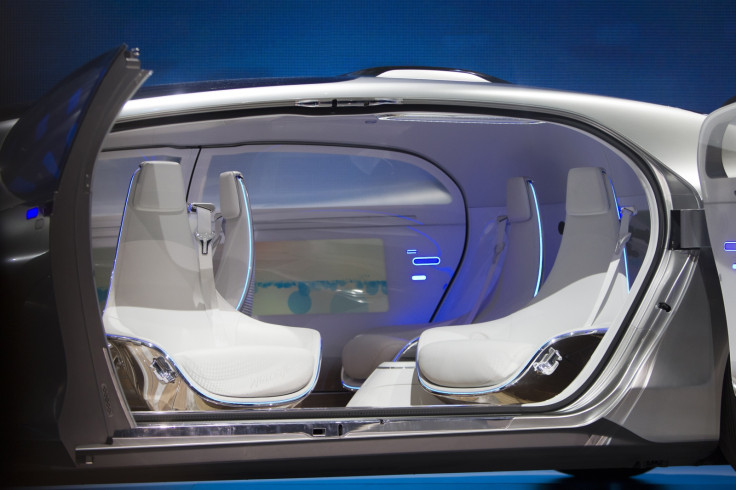 When out of the complex road networks of towns and cities, the F015 can drive fully autonomously, relying on an array of cameras and sensors to monitor its environment and other vehicles; Mercedes claims the driver can then concentrate on other tasks instead of driving.
Mercedes sees a future where the driver will no longer make eye contact with pedestrians. Instead, the car will spot people waiting to cross the road and, if it is safe to do so, stop and project a zebra crossing out of the front bumper and onto the road, allowing them to cross safely; the crossing is joined by an audible "please go ahead" message played out to pedestrians from external speakers.
Built from carbon fibre-reinforced plastic and aluminium, the car has been designed to provide as much cabin space as possible, while keeping the overall size similar to the company's current S Class range or luxury cars. A lounge-like interior features a steering wheel which retracts into the dashboard when the driver opts for fully autonomous driving.
Inside, the cabin is designed to offer a glimpse at what driving in 2030 could look like, with four rotating seats allowing face-to-face conversation while driving in autonomous mode. Six touch screens cover the dashboard, rear and side panels, giving passengers access to what Mercedes is calling a "digital activity space".
© Copyright IBTimes 2023. All rights reserved.